China's Best Museum Exhibitions of 2019 Awards were unveiled recently. Twenty-nine winners distinguish themselves in five categories. The annual event, dubbed the Oscar Awards in China's cultural relics realm, has now completed its 17th run since its inception in 1997, receiving 114 applications from various types of museums.
The winning exhibitions cover a wide range of themes, including art, science, history, natural history, and modern revolutionary history, and offer various perspectives on and interpretations of artistic, historical, or scientific collections. Notably, two categories of awards are dedicated to international joint exhibitions to promote cross-cultural understandings between China and the rest of the world.
Permanent exhibitions of Zhejiang Museum of Natural History, Anji Branch
浙江自然博物院安吉馆基本陈列
From Dec 28, 2018
Location: Zhejiang Museum of Natural History Anji Branch, Anji county, Zhejiang province
The permanent exhibitions of the Zhejiang Museum of Natural History, Anji Branch, present guests with an international vision of natural resources. The exhibitions are curated with specimens and fossils not only discovered in local Zhejiang province but from the entire country and across the globe. In the Dinosaur Gallery, all eight kinds of local dinosaurs in Zhejiang, 28 kinds from other provinces in China, and 49 major kinds of dinosaurs and pterosaurs unearthed around the world are on display.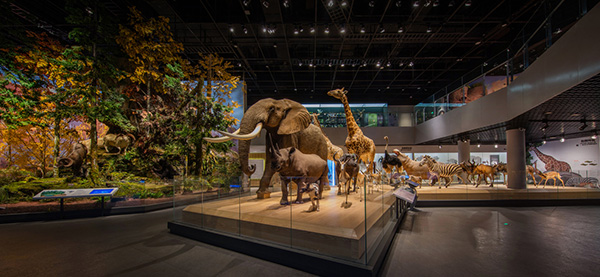 Animal specimens displayed in the Behring World Gallery [Photo provided to chinadaily.com.cn]
The exhibitions explore our planet in several thematic gallery displays. The Geology Gallery narrates the epic stories of two billion years of geological history in Zhejiang, and provides information about the earth's structure, geological age, and biological evolution from the Cambrian to the Quaternary.
With the theme Return to the Age of Dinosaurs, the Dinosaur Gallery chronicles the colossal creatures inthe time sequence of the Triassic, Jurassic and Cretaceous ages, which is innovative compared with other domestic dinosaur exhibitions.
The Marine Gallery enables the audience to beginan exploratory journey from shallow waters to deep oceans, and the Behring World Gallery contrasts the ecosystems and evolution of animal species in Africa and North America.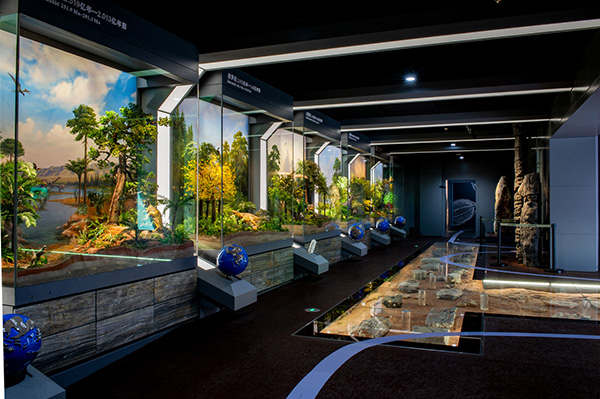 A corner of the Geology Gallery [Photo provided to chinadaily.com.cn]
The exhibitions leverage various media to engage guests and enrich their experience. There is at least one exploration room and multiple interactive programs set in every gallery. Signboard texts, organized in dialogues and questions,are clear and succinctly written. A variety of charts and diagrams replace technical terms to stimulate viewers'interest in independent exploration.
Eight thousand exhibits, which are the most revealing, the most expressive, and most reflective of the latest research results, are selected for the permanent exhibition. They include the world's precious Triceratops skull, the Hypacrosaurus skeleton, South China tiger (Panthera tigris Amoyensis), African bush elephant (Loxodontaafricana), the "dragon egg" stone, and giant calcite. In addition, the Marine Gallery also exhibits more than 50 kinds of living organisms.
To learn more about the winning exhibitions, please visit http://govt.chinadaily.com.cn/topics/cultureandarts/chinamuseumexhibitions/