China's Best Museum Exhibitions of 2019 Awards were unveiled recently. Twenty-nine winners distinguish themselves in five categories. The annual event, dubbed the Oscar Awards in China's cultural relics realm, has now completed its 17th run since its inception in 1997, receiving 114 applications from various types of museums.
The winning exhibitions cover a wide range of themes, including art, science, history, natural history, and modern revolutionary history, and offer various perspectives on and interpretations of artistic, historical, or scientific collections. Notably, two categories of awards are dedicated to international joint exhibitions to promote cross-cultural understandings between China and the rest of the world.
Chengde: Harmonious Ethnic Unity in Qing Dynasty
"和合承德"清盛世民族团结展
From Nov 18, 2019
Location: Chengde Museum, Chengde city, Hebei province
Chosen by Emperor Kangxi (r. 1662-1722) of the Qing Dynasty(1644-1911) as the location of his summer resort, Chengde, a city in North China's Hebei province, was a place converging the various ethnic groups of Manchu, Hui, Mongolian and Han, and an intersection of farming and nomadic civilizations.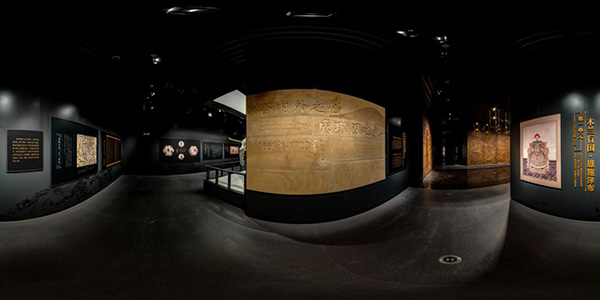 The panorama of Ethnic Unity section of the exhibition [Photo provided to chinadaily.com.cn]
The exhibition depicts the harmonious integration of various ethnic groups and civilizations in the heyday of the Qing Dynasty during the Kangxi, Yongzheng and Qianlong reigns (1662 through 1795), illustrating the unique and profound impact of Chengde as an important political center second only to Beijing during the Manchu Qing Dynasty.
It is comprised of three sections: Ethnic Unity, Buddhist Art, and Imperial Life.
The first section presents the three emperors' pacification and mollification strategies such as holding large banquets and meeting envoys and nobles from minorities, which were meant to unite various ethnic groups and strengthen Chengde's military strength.
The second section showcases 160 valued items in the three categories of Buddhist statues, pagodas and Buddhist ritual apparatus, which are witnesses of the exchange and integration of religious beliefs among the Han, Manchu, Mongolian, Tibetan and other ethnic groups.
Imperial Life focuses on the etiquette, court rules, diet, costumes and entertainment of the imperial family.
The highlight exhibits include the 18th-century rosewood base enamel pagoda and the gilt bronze Amitayus Buddha (Buddha of Limitless Life) statue; both are national first-class cultural relics.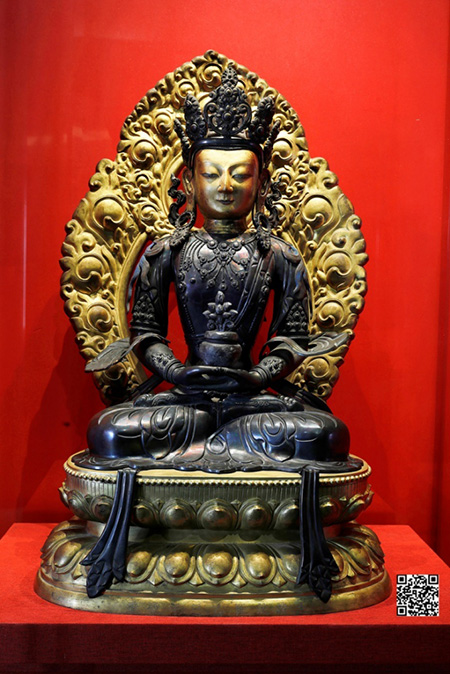 The 18th-century gilt bronze statue of Amitayus Buddha (Buddha of Limitless Life), a national first-class cultural relic, is one of the highlights of the exhibition. [Photo provided to chinadaily.com.cn]
To learn more about the winning exhibitions, please visit http://govt.chinadaily.com.cn/topics/cultureandarts/chinamuseumexhibitions/