China's Best Museum Exhibitions of 2019 Awards were unveiled recently. Twenty-nine winners distinguish themselves in five categories. The annual event, dubbed the Oscar Awards in China's cultural relics realm, has now completed its 17th run since its inception in 1997, receiving 114 applications from various types of museums.
The winning exhibitions cover a wide range of themes, including art, science, history, natural history, and modern revolutionary history, and offer various perspectives on and interpretations of artistic, historical, or scientific collections. Notably, two categories of awards are dedicated to international joint exhibitions to promote cross-cultural understandings between China and the rest of the world.
Jingdezhen Ware: Peak of Ceramics Industry -- Ceramics, Ceramics Industry, and Urban Development
瓷业高峰是此都 —— 景德镇瓷器、瓷业与城市发展史陈列
From March1, 2019
Location: Jingdezhen China Ceramics Museum, Jingdezhen city, Jiangxi province
Of all China's cultural icons, ceramics has had the most profound and extensive global influence. Jingdezhen, a city in East China's Jiangxi province, is the pride of the Chinese ceramics industry. Acknowledging that "Ceramics are a credit to Jingdezhen's reputation in the world", this exhibition explains how the city has made its way to become the world's "ceramics capital".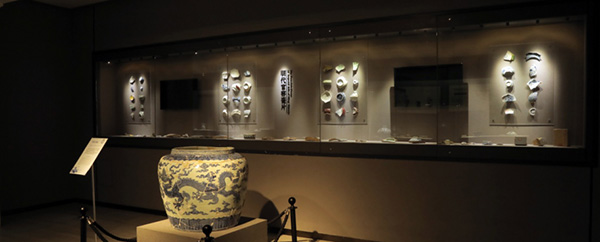 Display of ceramic shards and a masterpiece blue-and-white porcelain jar [Photo provided to chinadaily.com.cn]
The exhibition unfolds in chronological order the story of Jingdezhen in terms of its two millennia history of pottery production, one millennia history as the country's official kiln, and six century history serving the imperial family. The first part describes why Jingdezhen was able to become the world's "ceramics capital"; the second part describes Jingdezhen's ceramic management system, the manufacturing technique and process, industry division, and kiln industry; the third part describes Jingdezhen's innovative technique s and characteristics in ceramic ware; the fourth part, perhaps the highlight of the exhibition, shows the artistic height of Jingdezhen's ceramic productions in the Yuan, Ming and Qing dynasties (1271-1911); the fifth part presents the achievements of the modern ceramics industry in Jingdezhen; and the sixth part describes the development of Jingdezhen ceramics since the founding of the People's Republic of China in 1949.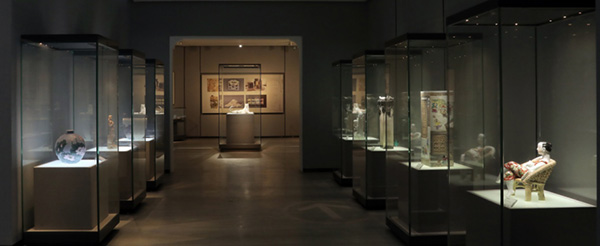 The interior space of the exhibition gallery [Photo provided to chinadaily.com.cn]
The 417 sets of exhibits cover ceramic masterpieces of various historical periods since the Neolithic Era. They are rich in historical information, reflecting the connotations of China's excellent traditional culture. It is also worth mentioning that the museum keeps the largest collection in number of ceramics datable to the Republic of China (1912-49) in the world, and the largest collection of modern and contemporary ceramics in China.
To learn more about the winning exhibitions, please visit http://govt.chinadaily.com.cn/topics/cultureandarts/chinamuseumexhibitions/