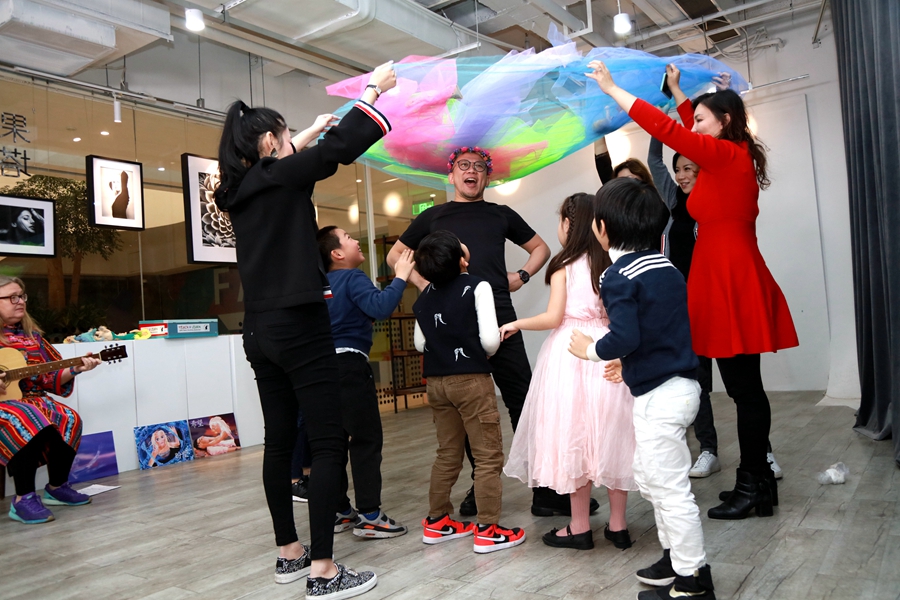 Yip teaches drama and plays with his students during classes held in Shanghai in 2019.[Photo provided to China Daily]
Many works handed in to the project have combined the bottle story with that of COVID-19, calling for a strong spirit to conquer the pandemic and more caring hearts during the crisis. In children's paintings the team received, some chose to contain the virus in the bottle, some made it into a superhero or a spaceship to fight against the alien-like and villainous virus, and others imagined the bottle as a protective shield for medical workers.
Parodies and sequences of The Bottle Neck keep popping up as well. In a story titled The Towel, written by 11-year-old candidate Liu Zihan, a towel at first envies a mask, which is a newcomer to the family and a rival who always touches the master's face. But "one day, the mask never comes back and no one knows where it has gone".
"Like the four seasons, our life has gains and losses," Qiao Zhongliang, a 32-year-old participant, who sent in a video clip, writes in an attached short paragraph. "When life is experiencing loss, wait for a moment. Everything will revive in the end."
Yip soon found the themes of the work "too abundant to be closely connected with The Bottle Neck". He recounts that a child wrote about a floating cloud that brings rain to thirsty lands. "That echoes our feelings today," Yip says. "Sometimes we're incapable of really helping others (in the outbreak of COVID-19), but we still want to spread hope in a gentle way-like a cloud."
Autistic children are encouraged to join in. Their paintings may not be themed on bottles, but they let their imagination drift through amazing colors and patterns. "Any work is welcome as long as it can be loosely linked with the drifting bottle," Yip says.