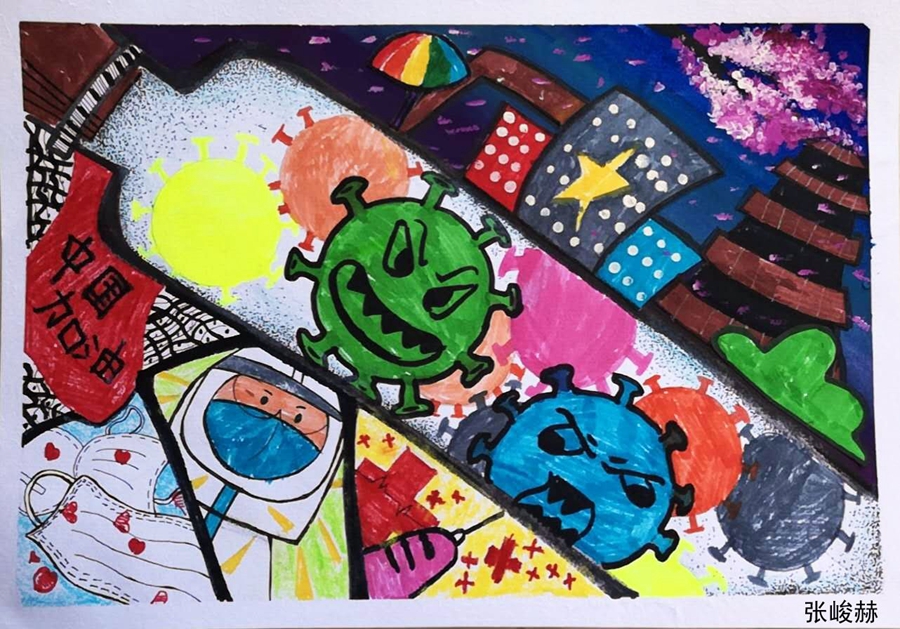 Children's paintings inspired by Danish writer Hans Christian Andersen's fairy tale, The Bottle Neck, show their wish to contain the novel coronavirus.[Photo provided to China Daily]
The work of Danish author Hans Christian Andersen can inspire people today, be they young or old, says Beijing-based director, Wang Kaihao reports.
As with so many things in life, children can get to the heart of the matter often quicker than adults. So, they call him "Logger Vick" due to this amiable man's bald-headed appearance resembling the leading character in popular Chinese animation Boonie Bears.
Though now based in Beijing with his family, William Yip, a 43-year-old Hong Kong drama director and educator, took more than 200 flights across China in 2019 alone to usher drama into classes, in places ranging from first-tier metropolises to small towns in the west.
Yip describes his busy itinerary as "bittersweet". It's exhausting but worth it. His passion and humor shine through. Drama is like "vitamin C" to Yip: You can survive without it for some time, but it is ultimately essential to sustain health.
This energetic man is meeting a challenge familiar to everyone. Periods of self-quarantine at home due to the outbreak of COVID-19 can plunge people into depression.
"Many children said they are fed up being isolated at home in spite of online courses," Yip recalls. "I want to do something to help them."