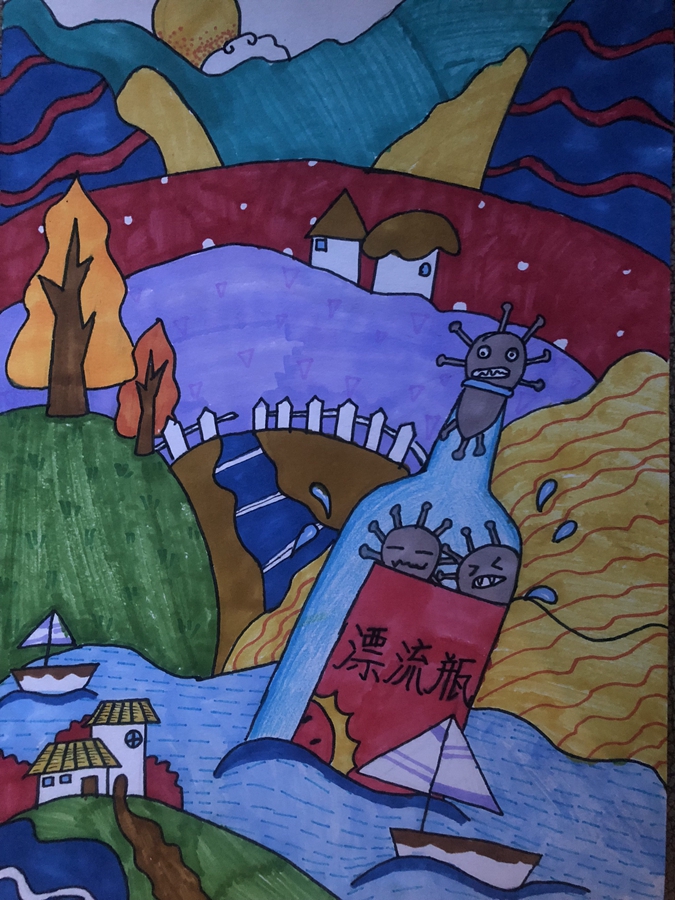 Children's paintings inspired by Danish writer Hans Christian Andersen's fairy tale, The Bottle Neck, show their wish to contain the novel coronavirus.[Photo provided to China Daily]
Pause for a cause
As father of a 1-year-old baby, Yip can relate to this story.
"The pandemic has disrupted many people's lives," he says. "But we may be able to settle down and spend more time with our families.` is a good story for us to understand the meaning of life and it leads us to think: When life is no longer usual, what should we do?"
Yip deliberately avoids Andersen's more famous stories like The Emperor's New Clothes, The Ugly Duckling, or The Little Match Girl. He explains that sometimes it is difficult to set the imagination free when the story is too familiar.
Deadline for uploading submissions will be April 2, fittingly, Andersen's birthday. More than 600 pieces have been handed to Yip so far.
The works presented cover various genres-paintings, video clips with dancing, singing and even short dramas, poems and short stories.
Andersen was not only a writer, but also cultivated in drama, drawings, singing and many other genres of art, Johansen says.
"Alongside his work as a writer, he is probably best known for his paper-cuts," Johansen says.
She was pleasantly surprised to see how this project has developed "in such a short time".
"It is so amazing to see the many creative works the Chinese children have sent in," she adds. "It shows that the stories and the values of the fairy tales are just as relevant today as they were 200 years ago."