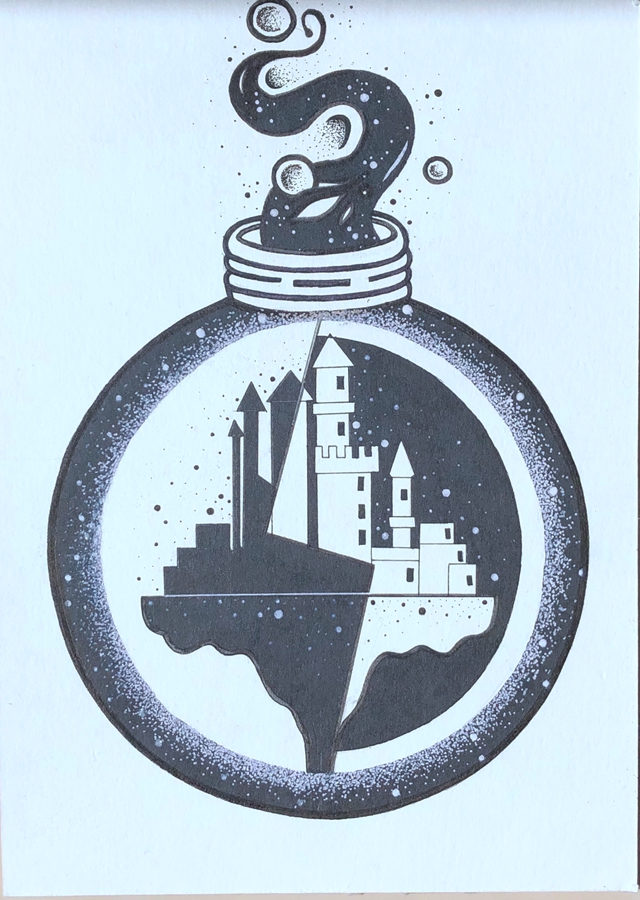 A poster design by Guo Xinyao, a 12-year-old participant of the "H.C. Andersen award initiative", explores the bottleneck of life, which is ambivalent to kindness and evil.[Photo provided to China Daily]
In 2018, Yip took his students to Denmark, home of the great fairytale writer Hans Christian Andersen. They presented the drama The Nightingale, adapted from the only China-themed story under Andersen's pen, to local audiences at an arts festival.
He was there again in early February, when the novel coronavirus had not yet become so disruptive in Europe. He discussed with Danish artists how to cheer people up during the crisis and Andersen's name kept cropping up.
"Talking about Andersen, people thought initially that he was just for children as I did years ago," Yip tells China Daily in a telephone interview. "But his stories include a philosophy for life. Adults can also feel connected when they read them."
Cooperating with the Chinese-Danish Cultural Alliance and the Hans Christian Andersen Foundation in Denmark, Yip soon drafted the "H.C. Andersen award initiative" after returning to Beijing.
In the project, which kicked off in late February, Yip uses The Bottle Neck, a lesser-known fairy tale written by Andersen in 1857, as the theme, and asks people to upload their own literary or artistic works inspired by that story. Participants can freely choose their favored genre or format.
Lisa Johansen, co-founder of the Chinese-Danish Cultural Alliance, tells China Daily via email that "our common interest is to share the originality of Hans Christian Andersen's fairy tales and to open up the creativity and imagination of children-and adults, too".
The Bottle Neck follows the story of a wine bottle. It is a tale told by the bottleneck about how it remembers being crafted and filled with quality wine, before being opened during an engagement celebration. It relates how a sailor took the bottle with him on a sea journey and how the ship was wrecked in a storm. The bottle traveled around the world and returned home, with only the bottle's neck intact. An old lady picks it up and she doesn't realize that she drank wine from this bottle at her engagement party.
"The old bottle didn't know her either, partly-in fact, chiefly-because it thought only of itself." The ending of the story, for example, seems to be pertinent for today's world.