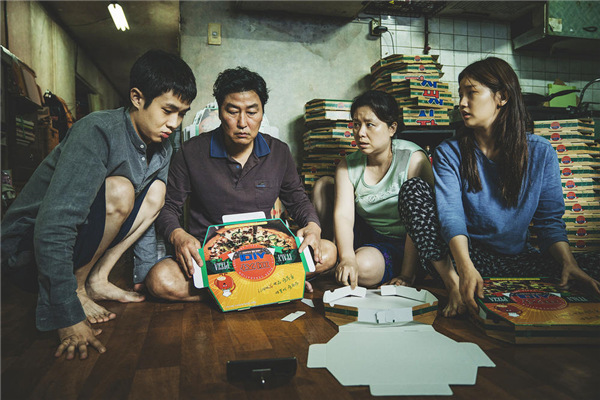 A still image from the film  Parasite. [Photo/Mtime]
After winning the Palme D'Or, a Screen Actors Guild Award, a Golden Globe, two British Academy of Film and Television Awards, a Writer's Guild of America Award and an American Cinema Editor Award, Parasite, South Korean director Bong Joon-ho's black comedy thriller and morality tale may be cruising toward an Oscar.
In a triumph for fine filmmaking no matter where it's made, Parasite has taken the global box office and critics by storm.
It opened in limited release with a $393,216 weekend, resulting in, according to Variety, a record-breaking, "best ever" opening per-screen-average-revenue for a foreign language film in the US. It even beat the per-screen-average-revenue record previously set by Hollywood's homegrown darling, La La Land. Then it went on to gross more than $33 million in North America and a princely $163 million globally -- not bad for a plucky foreign indie.
Commercially-viable and adroitly-written dramas on the weighty subject of class war between the "have nots" and the "have way too much" are hardly box office gold in the US, where audience preferences tend more toward blockbuster, bicep-bulging, spandex-wearing superhero fare or family-friendly Disney musicals.
But as a foreign drama, the list of hurdles Parasite has had to overcome to garner international eyeballs and critical acclaim was exponentially higher, and one begins to see just what a miracle this surprise hit from the other side of the world really is.
Foreign films face a steep language barrier that prevents easy watching for native English-speakers who are notoriously resistant to watching films in a foreign language. This is largely due to that daunting obstacle that Parasite's writer and director, Bong Joon-ho, referred to as, "the 1-inch barrier of subtitles."
"Unlike audiences in other countries, American audiences don't grow up going to see foreign films," Clayton Dube, director of USC's US-China Institute, explained to Xinhua. "People in many other places have foreign films as part of their entertainment diet from an early age."
In addition to that, the film is not just foreign, it's Asian, from South Korea, not Europe. Asian films face additional hurdles due to the unique differences in Western and Eastern culture which can make storylines and cultural nuances opaque to Western viewers and more difficult to be understood and appreciated.
"We don't always laugh in the same things or appreciate the tension or other emotions in a particular situation," Dube said.
But "Parasite" has managed to break through those formidable barriers with its run-away box office success and to engender a veritable love-fest with film critics, industry leaders and the top film organizations around the world.
Bolting out of the gate last May, "Parasite" made history by becoming the first Korean film to win the coveted Palme D'Or - the prestigious Cannes Film Festival's highest honor. The film made history again as the first foreign language film to win the Screen Actors Guild's top award for Outstanding Performance by a Cast in a Motion Picture. It also won Best Foreign Language film at the Hollywood Foreign Press Association's prestigious Golden Globes; then it won Best Film Not in the English Language and Best Original Screenplay at the British Academy of Film and Television Award in the UK, and nabbed the American Cinema Editor's highest film editing award too.