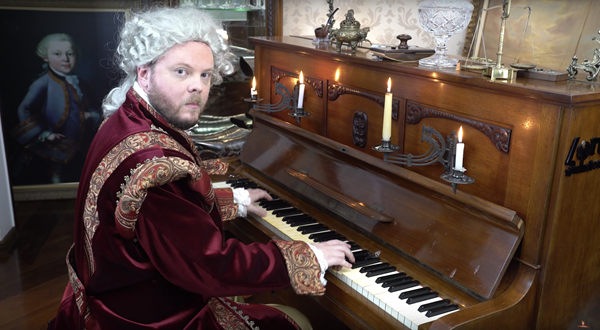 Streaming videos on social media platforms are offering members of the public the chance to stand out as online celebrities. Among them is Wu Songlei, an educational videos provider.[Photo provided to China Daily]
Education and entertainment productions attract growing number of viewers, Jiang Yijing reports.
Did you ever stop and think about everyday situations that you perhaps take for granted? Take trains, for example. China has the world's biggest rail system. Every day, millions of people travel by train. But how are these trains dispatched? What if one or two trains are delayed? How do railway operators keep them on track? These are just some of the questions that Wu Songlei, 26, and his team try to figure out and clarify with their educational videos.
A Jiangxi Normal University graduate, Wu always dreamed of producing videos that provided clear explanations of complex problems in an easy-to-understand way.
Despite majoring in engineering management, he gravitated to video production, a subject he found more engaging. After graduation, he researched the market for more than two years while working in a new media company in Beijing. "I love watching popular science videos and believe there are many people in China who also love to watch the same videos as me," says Wu. He adds that compared with those released on foreign websites, many of the videos in China catered mainly to children. Wu says he found a gap in the market for adults, and saw the business potential.
On Nov 30, 2017, Wu launched his first video to explain how surveillance equipment works. The video was made in his spare time and received more than 368,000 views on the video-sharing platform Bilibili. Viewers left more than 1,400 comments.
"Video surveillance systems work like a safety guard in our daily lives. Many netizen comments were about the necessity of having the system. Their discussions helped me to confirm that my work was providing them with the information they wanted and gave me the confidence to start my own business."
Wu then quit his job and built up his team in early 2018. He began uploading the videos regularly. So far, he and his team have made 113 videos, including What Is the Blockchain?, How to Produce Beautiful Fireworks and How Is a Map Pictured? These videos were not only published on Bilibili, but also on Sina Weibo and an official WeChat account under the identical account name PaperClip, which now boasts followers of 1.4 million to 2.9 million respectively.
Wu's team has also grown to 22 people from the initial two. At first, they released a video every two weeks-now it is two videos weekly.
"It is not easy," says Wu. "Six teammates prepare for the Q&A session, others make the video, each of which takes three weeks to complete, so we work on different topics simultaneously."
The most popular video on Bilibili is about how paper money is made. This received 1.3 million views. The video about trains on Sina Weibo reached 6.23 million views.
Understanding each topic requires a great deal of research, says Wu. "Interviewing experts doesn't always work because they may use professional terms that can be hard to comprehend. We look up information in books and academic theses and also search for reports published by different organizations. In order to make things more easily understood, we use pictures as well as cartoons in our videos.
"I get a sense of achievement every time a video has been watched more than 1 million times, and also feel responsible to keep producing videos of high quality."
Wu says that people leave messages about topics that interest them in the hope that Wu's team will make videos about them. "The topics seem endless," says Wu with a smile.