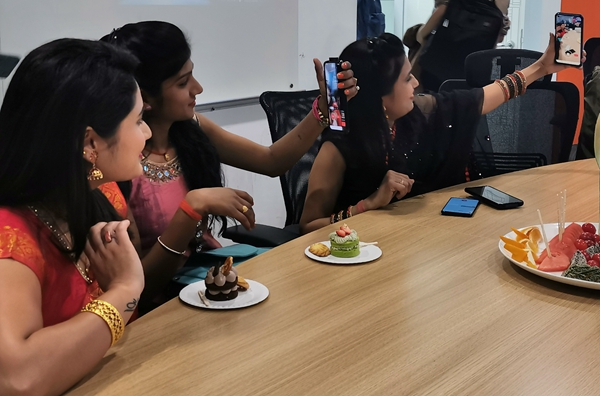 Three Indian online celebrities (from left) Naina Jee, Arti Sharma, and Pooja Sarma shoot clips during their visit to the short-video platform VMate's Beijing office last month. [Photo by Wang Kaihao/China Daily]
The housewife still has to do the family chores but she is establishing an identity far removed from what was once her daily routine as a whole new world opens up to her. Pooja Sarma, 25, from the northeastern Indian state of Assam, has a loving and devoted family but now also enjoys a new, and unexpected, lease on life as an online celebrity thanks to a Chinese short-video platform.
Her online life started last year when she opened an account on VMate, the Chinese trending video platform for people to share moments from their everyday lives and their talents. Affiliated to internet giant Alibaba, the platform allows her to upload short clips on, among other things, how to wear saris and other traditional Indian clothes. With 2.5 million followers, she sometimes posts 20 to 30 clips a day.
"I post them whenever I have time," she says during an interview with China Daily in Beijing last month during a promotional trip. "This 'job' makes me happy and brings me confidence."
Even during the interview, she selects and prepares clips to share her China experiences with her fans later.
She has actually earned about 200,000 rupees ($2,800) on VMate, thanks to donations from followers.
Her own unique style, she says, has boosted her popularity. "I don't follow any specific formats. However, I draw inspiration from videos I watch."
She is not alone. In the online universe, a new galaxy of stars is emerging. In Uttar Pradesh, 19-year-old Arti Sharma started sharing videos of farm work over the past six months after her older brother suggested it to her. Sharma has 1.2 million followers on VMate.
"My family is poor," she says. "But I wanted to establish my own identity. Short videos enable us young women to earn money for the family. We are not a burden. It feels like a new life for me."
Determined to fully explore the potential of the possibilities on offer, she rejected a marriage proposal based on the condition that she give up her online activities.
Her new role sees her challenging tradition. "Senior villagers used to think shooting short videos is not a good thing for young women," Sharma recalls. "But this gradually changed when they saw my success. The money helps me support my village."
Starting in 2017 and targeting India as a major market, VMate has been downloaded more than 100 million times through Google Play. And its monthly active users have hit around 50 million.
Cheng Daofang, CEO of VMate, sees how his product has changed the social status of some Indian women. "In my observation, male users will upload more content than females," he says. "But the best-rated content on VMate more often comes from female users. Our mission is to provide a fair environment to more voices from the grassroots."
The booming development of 4G networks in India since 2017 has seen a dramatic shift. According to Cheng, when 4G became popular in India, the monthly cost of a 1-gigabyte service was about 39 yuan ($5.6). "That was even cheaper than in China at that time," he explains. "And, ordinary people had a better chance to display their talents. As many social networks are dominated by urban residents, short-video platforms provide a key arena for those living in the countryside."
Many young Indians find ways to earn fame and money on VMate, like Sarma and Sharma.
"China has the leading short-video platforms in the world as we don't see many very competitive products overseas," Cheng says.
In China, Douyin and Kuaishou, two leading short-video sharing platforms, both have around 30 million daily active users.
Cheng explains that there are many special features in short-video platforms in India.
For example, India has more than 40 officially recognized regional languages, and English is not that widely spoken in rural areas. That puts the onus on the designers of VMate to make the app easier to operate than other social network platforms.
And films compose a crucial part of mass entertainment for the Indian public, so using and being inspired by famous film scenarios has become popular on VMate.
The platform once organized an event to portray a similar scene to one that appeared on Baahubali, a two-part epic action production, which was the highest-grossing film in India. "More than 300,000 videos are created in this format," Cheng says. "We team up with colleagues in India. They contribute ideas, and we magnify them."
Lovely Gera is a senior business development manager for VMate in India. Her job is to tour the country and invite potential talent to join the platform. She believes that areas where 4G networks and smartphones have just begun to appear have the biggest potential as local people find a new outlet for expression.
"The videos help people understand what India is really like from different perspectives," she says.
According to Cheng, interaction between online and offline communities has become a new trend for VMate users.
"The 'stars' on VMate often become celebrity figures in their villages," he says. "There are strong connections between social networks on this platform and people's real relationships in their community."
For both Sarma and Sharma, their popularity has attracted others in their villages to highlight their lives on the platform.
"Women are particularly willing to show their talents," Sharma says. "People want to become a part of a bigger community."
For a teenager like Sharma, it is perhaps still too early to clearly picture her future life, but Sarma has already envisioned wider horizons for herself in the fashion industry.
Gera reveals that some popular VMate users even get auditions for Bollywood films.
Speaking about the future, Cheng says "faith" is needed to expand VMate's digital terrain in India.
"Although mobile payment channels in India are not as popular as in China," he says, "we have faith that mobile payments will grow rapidly. It takes patience."