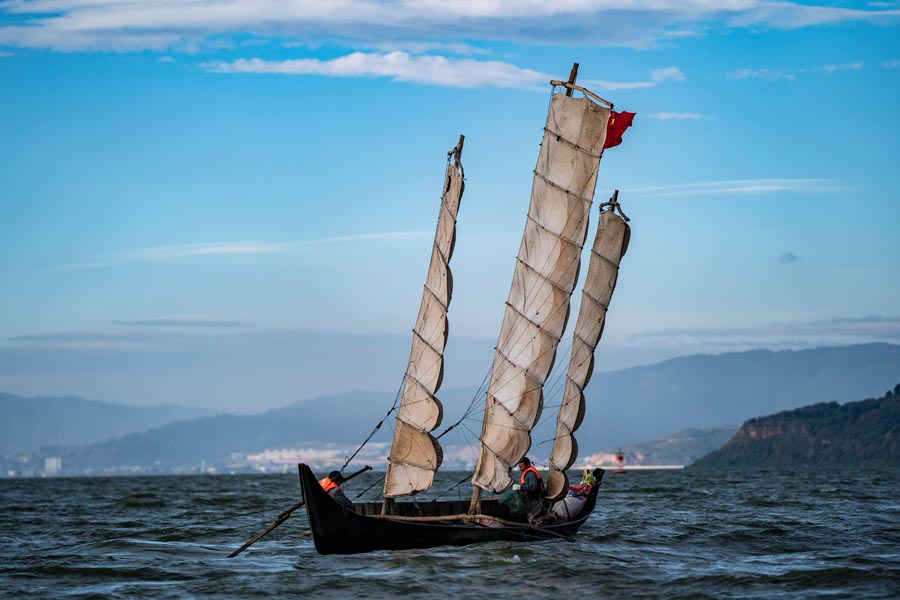 Zhang Kaidi (right) and Li drive a boat to catch shrimp in Dianchi Lake. [Photo/Xinhua]
On Oct 16, a 30-day open season began on Dianchi Lake in Yunnan. In order to protect the lake and reduce emissions, local fishermen have stopped using oil-powered motor boats to go out to fish, instead reverting back to traditional three-masted sailing boats. Unlike the last two years, this season, only the silverfish and shrimp are allowed to be harvested.
"It's better to catch less fish than to destroy the ecology of Dianchi Lake," Zhang says, sagely. "Let the fish grow up, don't worry."
It has been a gradual road to recovery for the lake, but residents now realize its fragility and the need for it to be protected.
In the past, local residents knew nothing of environmental protection. No one ever thought that the water would become so polluted, and they often dumped their household waste into the small ditches that spilled into the lake.