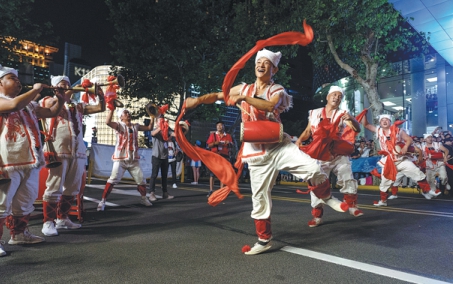 Ansai waist drum dance performers from Yan'an, Shaanxi province.[Photo by Gao Erqiang/China Daily]
Apart from the growing number of floats, the quality of the decorated platforms has also improved.
"In the past, we found that the lights used on the floats were not bright enough and the colors were not diverse enough. Now, the LED lights we use are brighter and they also allow us to adjust the colors and save on energy," says Chen.
Twenty-five floats will parade through the city's districts in the coming days. After the parade, they will be parked at the Shanghai Yuehu Sculpture Park in Songjiang district from Sept 29 to Oct 6 for tourists to view.