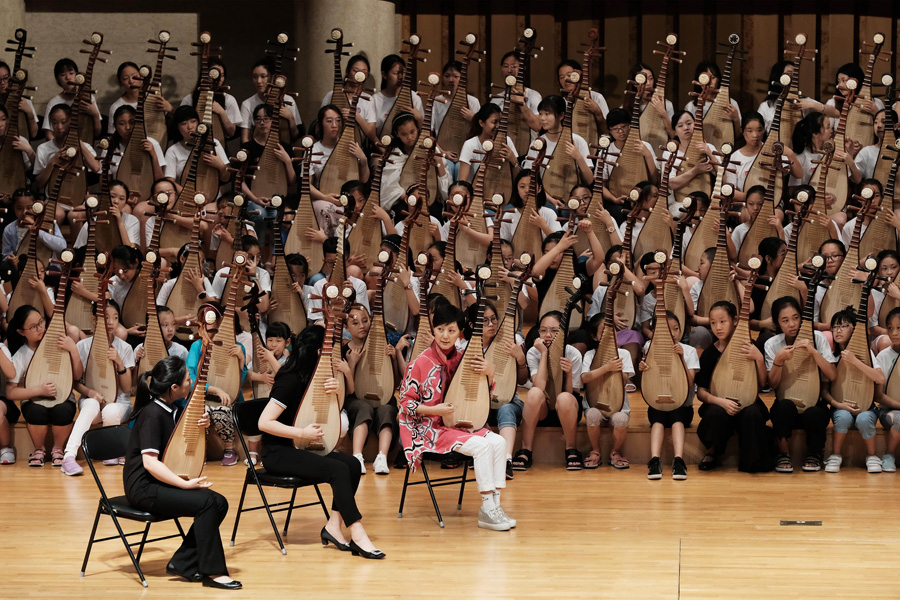 Pipa player Zhang Hongyan (center) will launch a pipa summer camp during the Gateway to Music arts festival. [Photo provided to China Daily]
Zhang adds that since more and more parents in China are encouraging their children to learn to play music, whether Western classical or traditional Chinese music, she will invite music psychologists to join the summer camp and interact with parents, discussing issues about music education and ways to help their children get the most out of their music lessons.
Xu notes that in May, the Beijing, Tianjin and Hebei symphony orchestras teamed up to form an art alliance aimed at promoting the development of the classical music scene in the Beijing-Tianjin-Hebei area.
With the support of Beijing Poly Theatre Management, the alliance will bring programs to children in four other cities: Baoding, Hengshui, Tangshan in Hebei province, and Tianjin-as part of the Gateway festival.
One of the highlights will be a concert performed by the BBC Symphony Orchestra on July 2 at the Tianjin Grand Theater. Under the baton of conductor laureate Andrew Davis, the orchestra will perform Piano Concerto No 1 by Pyotr Ilyich Tchaikovsky, featuring pianist Pavel Kolesnikov. Over the course of the next 58 days, audiences will be able to enjoy around 45 more performances at the Tianjin Grand Theater, all diverse in their scope and nature.