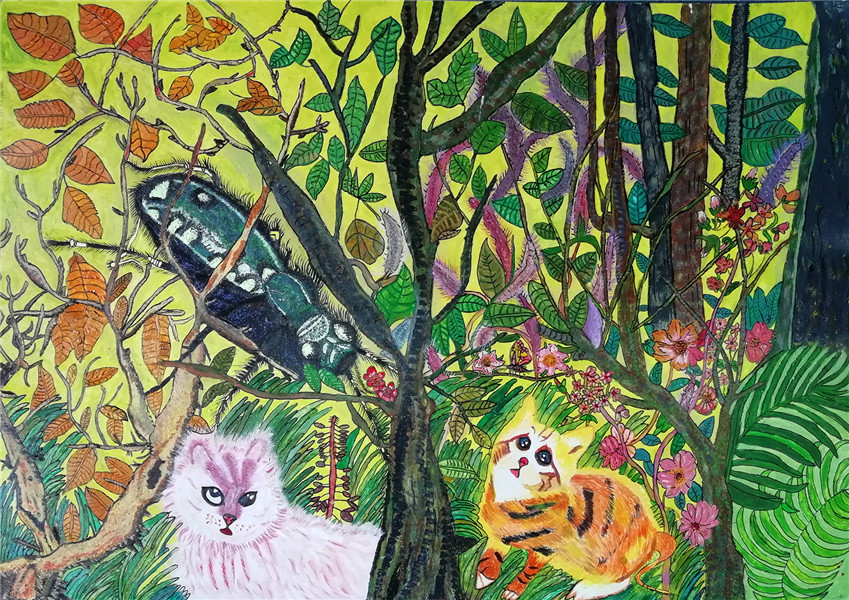 An artwork by Zeng Liaoying. [Photo provided to China Daily]
Aware of Xie's talent since childhood, her mother, Xu Yujiang, found teachers for her and took her works to exhibitions and competitions before getting in touch with 5 Colours Foundation, a charity aimed at helping people with physical and mental challenges, in 2013.
The organization, founded after the magnitude 8 earthquake hit Wenchuan, Sichuan province, on May 12, 2008, was initiated by influential contemporary painter Zhou Chunya to help children who suffered injuries in the devastating quake to use art and painting to aid them on the road to recovery.
It later expanded its remit to helping people living with mental disability. Some of the students made their way to university, studying art-related majors, and the organization helps them with tuition fees and painting materials.
They are given skills to make a living by creating their own collections or doing work related to painting after graduation.
The move also benefits their family, according to Zhou, as they see the progress made and the talent revealed.