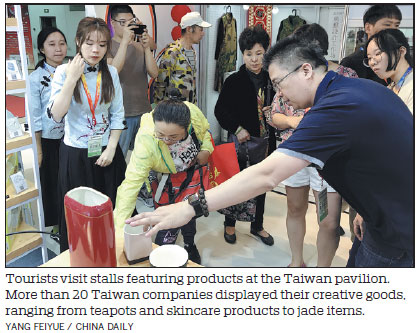 Taiwan's pavilion is one of many highlights at the event, which attracted over 700 exhibitors from major domestic cities, and more than 80 countries and regions.
The expo covered 35,000 square meters and presented 17 themed areas, which featured such elements as the distinctive cultures of China and other countries and regions involved in the Belt and Road Initiative.
Over 20 Taiwan companies displayed their creative goods, ranging from teapots and skincare products to jade items.
Mai Chuan-liang from Taiwan Ceramics Co brought more than 70 teapots and cups that incorporate feng shui to the expo. He has made ceramics for over three decades.
"Our products are handmade using a special clay from Taiwan," he says.
Mai has joined the Beijing culture exhibition many times over the years.
"People here have shown strong interest in our products," he says.
Yeh says he received many applications to participate in the expo and had to whittle them down to those that best represent Taiwan.
Plans call for more space to be available next year to enable more visitors to know more about Taiwan's creative products.