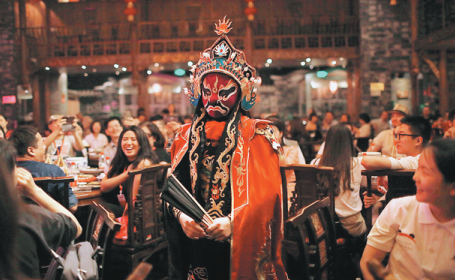 Visitors are entertained by an actor performing face-changing, one of the most famous aspects of Sichuan Opera, where actors rapidly alter their face appearance with stunning and dramatic effect.[Photo provided to China Daily]
Gastronomy has the ability to demonstrate just how competitive a city can be, according to Carolina Quintana, coordinator of partnerships and networks of the Creative Economy Programme of the United Nations Conference on Trade and Development.
She added that the festival had helped her gain a deeper understanding of Sichuan cuisine and that it wasn't just all about its spiciness and hotpot, but many diversified flavors and cooking techniques.
Clement Piquet, a partner of magazine Food and Wine, was among those that toured popular sites in Chengdu and is a fan of Sichuan cuisine, believing it to be the most delicious food in the world.
He said chefs of Sichuan cuisine have the spirit of innovation, born from the local culture.
"Chengdu is not only home to many renowned chefs, but also attracts top chefs from around the world," he said.
Jiao Tong, a food writer from Taiwan, said for those obsessed with food, a pilgrimage to Chengdu is a must.