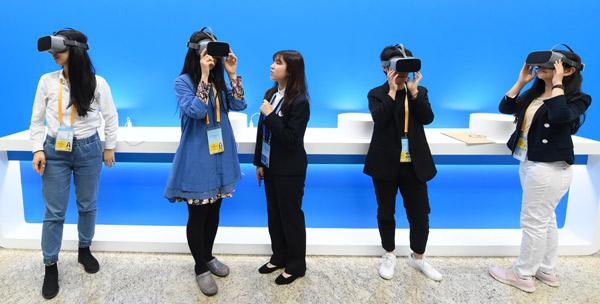 Attendees experience virtual reality technology before the opening ceremony of the conference on Wednesday. [Photo/Xinhua]
"Porcelain is one of China's cultural name cards. As a unique handicraft of China, the art communicates with civilizations in the world, hoping to gain resonance," said Shi Qin, the curator of the museum.
"As the successor of traditional crafts, we also seek innovation constantly. We believe that communication between different cultures can help us better innovate, which is the reason why we actively participate in CDAC."
Inclusive technology
While showcasing China's growing high-tech sector, technological innovations displayed at the conference leave none of the country's past behind.
With a 5G network and augmented reality technology, a "magic mirror" is all the participants need to color up the dusty Buddha figures on the computer screen.
The famous Thousand-Hand Goddess of Mercy in the form of Tibetan thangka was also brought back to life via a handheld augmented reality device.
Beijing's largest early Buddhist statues have lost their color due to their age, but now AR devices like the "magical mirror" can help restore their glory at museums.
Likewise, incomplete cultural relics, for example the old Summer Palace and ruins of Yuanmingyuan Park, can be restored via virtual technology.
AR technology is also expected to be applied to education in the future. It will let students see cultural relics in the classroom, said an employee of China Unicom, one of the country's main telecoms operators, which supports the 5G network at the experience area.
Some of the country's traditional culture, including the 24 solar terms, the Chinese zodiac, and its world cultural and natural heritage sites, are on show via the multimedia display. Participants can see pictures of the sites by completing jigsaw puzzles on an electronic screen.
Currently, China has 53 world heritage sites, ranking it second in the world. China is also one of the countries with the most complete heritage sites in the world.
The photo area, where participants can take pictures with landmarks in Asian countries, attracted long queues. "The diversity of Asian civilizations can be presented by the composite images of the participants and the sites in different forms of multimedia, combining the traditional physical photo exhibitions at the venues," said Wang Lin, an employee at the VR experience area.
"On the occasion of the 70th anniversary of the founding of the People's Republic of China, Chinese and foreign attendees can both taste the country's development and changes, especially the scenery of Beijing via VR technology," Wang said.