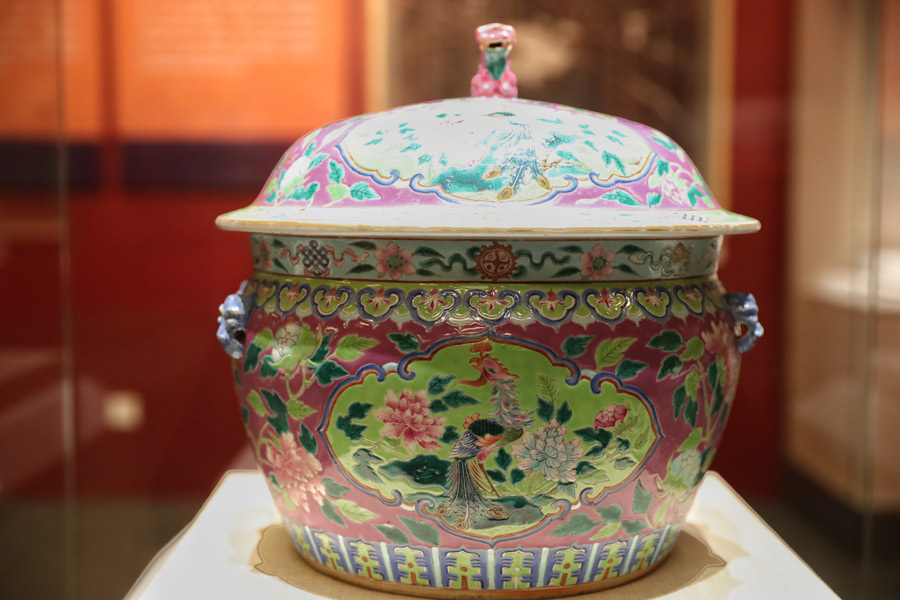 Ceramic kamcheng container ordered from China during the Qing Dynasty (1644-1911), Asian Civilisations Museum, Singapore. [Photo provided to China Daily]
From seventh-century BC bird-shaped pottery from Armenia to a Western Han Dynasty (206 BC-AD 24) gold-covered lamp, each item is testimony to the power of cross-border communication and cultural sharing.
One of the exhibits is a late Qing Dynasty (1644-1911) kamcheng, a covered porcelain container, from the Asian Civilisations Museum in Singapore. Kennie Ting, director of the museum, told China Daily that it was a perfect example of how Chinese migrants mixed with indigenous populations to form the unique Baba-Nyonya culture long ago.
"It was ordered from China, but its colors feature local preferences," Ting said. "Cultural relics from maritime trade are highlights of our collection, and we strive for a cross-cultural style that echoes with the theme of the conference of dialogue."
The exhibit from Cambodia featured a 10th-century statue of Varuna, a Hindu sky god, and showed how culture spread via religious belief in the area of Angkor Wat. Nine other Cambodian artifacts were also exhibited at the National Museum of China.