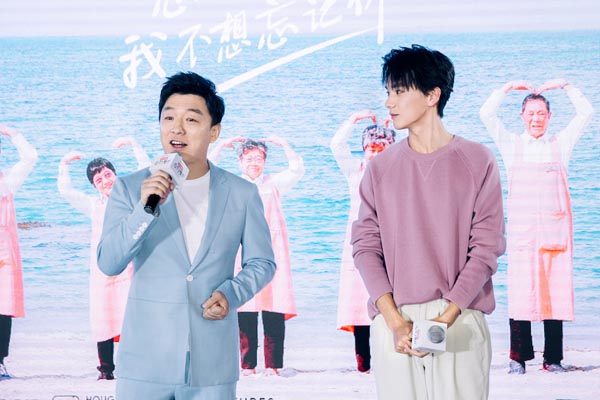 Actors Huang Bo (left) and Zhang Yuankun talk about their experiences shooting the reality show, Forget Me Not Cafe, in a recent promotional event in Beijing. [Photo provided to China Daily]
A new reality show that tasks people with cognitive disorders with waiting on tables aims to highlight their lives - and makes for unforgettable viewing, Wang Kaihao reports.
It's one of those restaurants where the waiters and waitresses often confuse the orders and take the dishes to the wrong tables - but in this case it's unlikely that any customers will complain.
Piloting on Tencent's video-streaming platform on April 30, Forget Me Not Cafe is a reality show that aims to inspire people to look beyond the laughs and think about the bigger issues in society.
In the 10-episode show, five senior citizens from all over China who have been diagnosed with a cognitive disorder are invited to work each week as servers at a restaurant in Shenzhen, Guangdong province, in a bid to raise awareness of intellectual disabilities in a lighthearted way.
Such disorders affect people's cognitive abilities, with Alzheimer's disease accounting for the majority of cases in this area.
When 45-year-old film actor Huang Bo, who's one of China's biggest box office draws, was first invited to join the show as the "restaurant operator", he didn't hesitate to accept, despite some initial concerns.
"I have to take care of elderly participants and their health problems," he says. "I don't want the show to have a heavy tone, but it's important to reflect social issues in a feel-good way."