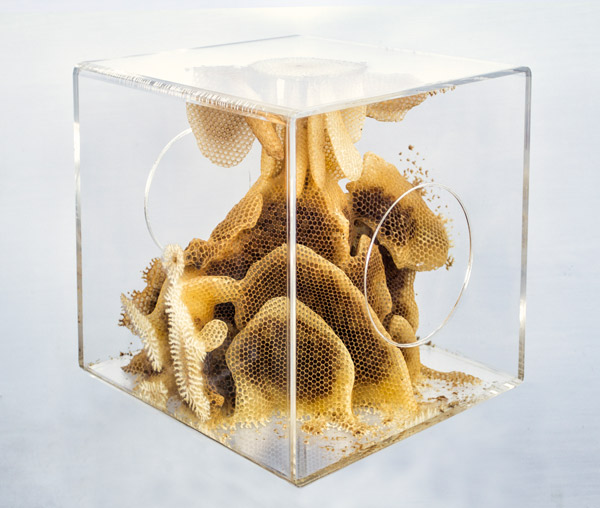 Another work, Yuansu II, shows a honeycomb built using human intervention. [Photo provided to China Daily]
"Kac told me this GFP technology is commonly used in biological experiments and doesn't do harm to the rabbits. He said it would take time for the public to understand and accept it."
Although GFP technology was used in the laboratory many times previously, this was the first time that the public had seen this kind of art. It presents the results of gene-editing in a concrete and visual way, which forces people to discuss the pros and cons of the technology.
Wei says a similar discussion about scientific ethics went viral in China when the world's first gene-edited twins were born last year.
In the photo based on the installation Disembodied Cuisine, the artists Oron Catts and Ionat Zurr created a semi-live frog "steak" grown from cells of the biopsy of a live animal and proliferated in vitro in a show in 2000. The skeletal frog muscle was grown over biopolymer alongside live, healthy frogs in the installation. On the last day of the show, the meat was cooked and eaten, and the live frogs were released back into the wild.
This concept of "victimless cooking" aims to highlight societal resistance to eating different animals and mocks the rise of artificial foods.
The work All the Insects in the House by Zhao Renhui displays 108 insects gathered from the artists' home.
"These creatures coexist with people, but they largely go unnoticed," Wei says. "I aim to discuss the relationship between humans and nature, and overturn the arrogant assumption that man is the only master of the planet."
In the artwork Yuansu II, a queen bee was put in the middle of a box, while the other bees started building honeycomb around her. Every seven days, the artist Ren Ri would randomly change the position of the box by rolling a dice, which in turn altered the shape of the sculpture.
"The final shape was created by humans, bees and the laws of probability," she says. "It conveys the idea that each species should be respected and not treated as workers for mankind."