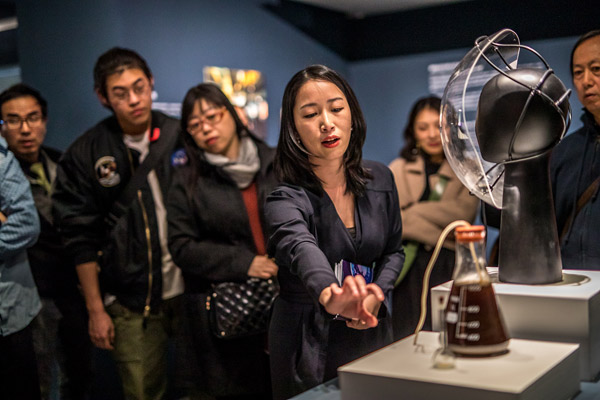 Wei Ying (center), curator of the exhibition Quasi-Nature: Bio Art, Borderline and Laboratory, introduces the exhibits to visitors at the 798 Art Zone in Beijing on March 22. [Photo provided to China Daily]
Wei is one of two winners of the Hyundai Blue Prize 2018, a global award for leading young curators, organized by the auto giant. Wei says her exhibition, which takes place at the Hyundai Motorstudio Beijing art space and runs through June 16, examines the future of human and nonhuman society and nature from a global perspective.
All the works on display employ laboratory material, technology or organisms in their artistic creations.
"The point is not to show off technology, or to judge what is right or wrong, but to touch the audience and make them think," says Wei.
Qiu Zhijie, a professor from the Central Academy of Fine Arts and a jury member, says the show will appeal to newcomers and industry insiders alike, thanks to its blend of cutting-edge artworks.
"The concept of biological art is new to the public, so we want to try and popularize it," he says.
Established in 2017, the Hyundai Blue Prize offers a global platform to young Chinese curators.
This year's competition will focus on the topic of "social intelligence", where six jury members will choose six finalists by reviewing their articles, plans and exhibition proposals.
All six finalists will get the chance to join a three-month mentorship program with one of the jury members, while the final two winners will each receive 600,000 yuan ($89,438) to stage their own award exhibitions in Beijing.