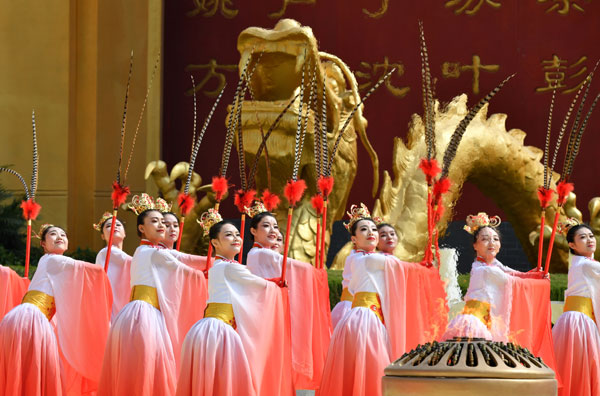 Artists stage a performance at a ceremony to pay tribute to the Yellow Emperor in Zhengzhou, capital of Henan province, on Sunday.
Nearly 10,000 Chinese people from more than 40 countries and regions attended a grand ceremony last Sunday morning in Central China's Henan province to worship the legendary ancestor Huangdi, or the Yellow Emperor.
The third day of the third month on the Chinese lunar calendar is believed to be the birthday of Huangdi. Last Sunday was also the last day of the three-day Tomb Sweeping Day holiday, when Chinese sweep tombs of their families and worship ancestors.
The ceremony was held in Zhengzhou, capital of Henan province. It is where Huangdi built the capital of the Huaxia Empire after he united all the tribes in China some 5,000 years ago.
The theme of this year's ceremony is "Same Root and Same Ancestor, Peace and Harmony". The ceremonial rituals included firing cannons, presenting flower baskets, offering incense, a worshipping ceremony, music and dance worship.
Huangdi was believed to have been born in the county-level city of Xinzheng, which is governed by Zhengzhou. He is regarded as a common ancestor of all Chinese.
Worshipping Huangdi is a tradition in China. The ceremony of ancestor worship in Huangdi's hometown has been listed as an intangible cultural heritage by the State Council.
Also that Sunday, the city of Zoucheng in East China's Shandong province held a ceremony to worship Fuxi and Nyuwa, who are earlier ancestors of the Chinese in mythology.
Thousands of people from China and beyond attended the event at the ruins of the Xihuang Temple in Guoli town. They watched dancers, dressed in hide and leaves, wielding torches and stone spears to simulate primitive labor scenes. They also paid tribute to Fuxi and Nyuwa's feats including fishing, hunting and domesticating animals.
Zoucheng, also known as the hometown of philosopher Mencius, is home to the largest number of Fuxi cultural artifacts in China.