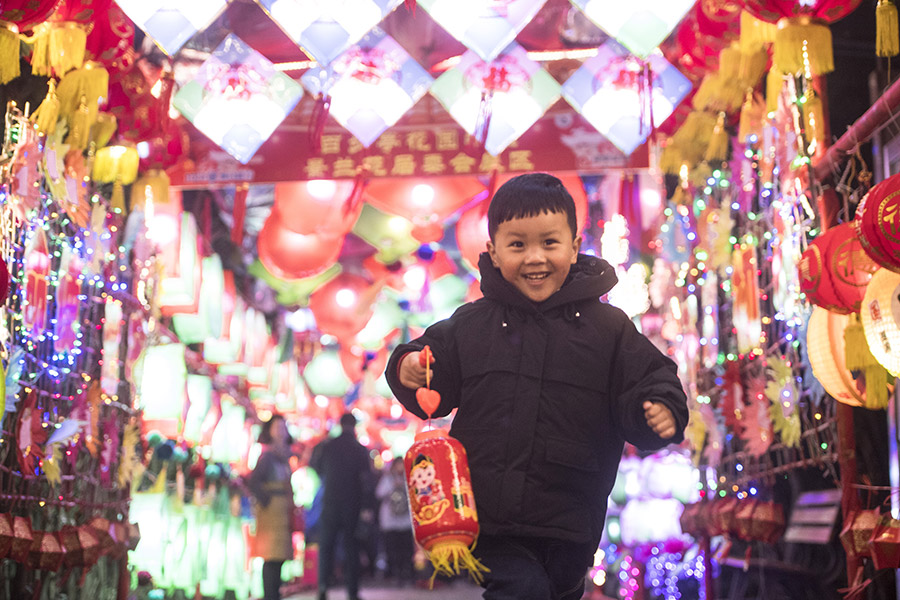 A boy runs happily in a corridor lit up with lanterns to celebrate Lantern Festival in Baibuting community, Wuhan, Hubei province, in March 2018. [PHOTO BY XIAO YIJIU/XINHUA]
As the first full moon of the new year approaches, China prepares to celebrate Lantern Festival, Li Yingxue reports. 
Lantern Festival, or yuanxiaojie in pinyin, which comes on the 15th day of the first lunar month, is the first festival after the celebration of Lunar New Year in China.
The tradition dates back to more than 2000 years ago-during the Han Dynasty (206 BC-AD 220) when Buddhism was flourishing in China. Emperor Ming of the Eastern Han Dynasty (25-220) ordered that lanterns be lit in the imperial palace to worship and show respect for Buddha.
During the reign of Emperor Yang of the Sui Dynasty (581-618), a large-scale gala with thousands of people was held over the course of the night to celebrate Lantern Festival.
The tradition of lighting lanterns gradually became a civilian activity, and the lanterns are now made into different sizes, shapes and colors-but all have good wishes for the new year.