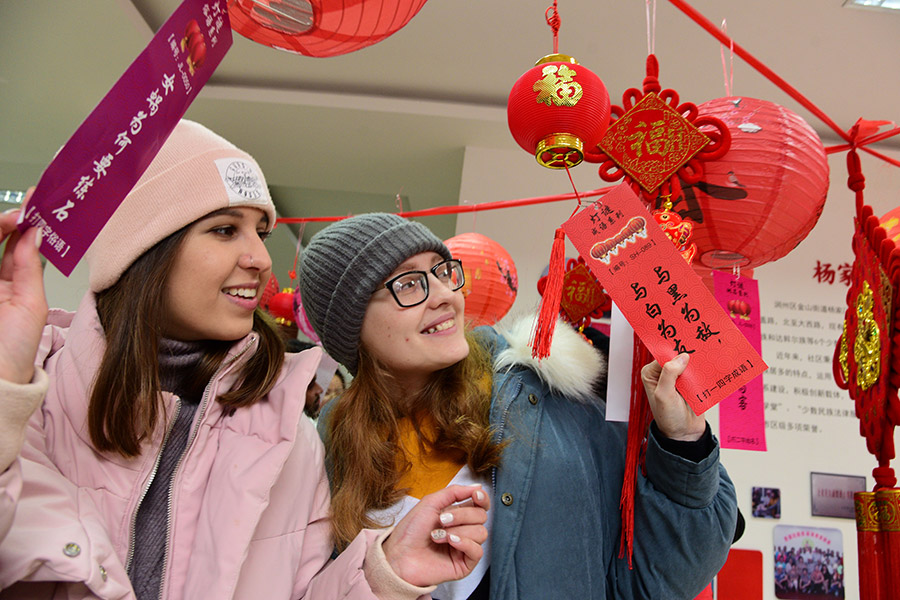 Two students from Russia attend a local riddle-solving activity in Zhenjiang, Jiangsu province on Thursday. [PHOTO BY SHI YUCHENG/FOR CHINA DAILY]
The making of tangyuan is more like making dumplings-the glutinous rice flour dough is molded into round wrappings and fillings are put inside before they are rolled into balls.
Both yuanxiao and tangyuan have similar sweet-flavored fillings, such as red bean paste, black sesame and crushed peanuts. But tangyuan also has savory fillings, including preserved vegetables with pork and mushroom.
Liu Yang, executive chef of Huaiyang cuisine restaurant, Youyuan Jingmeng, who is also a native of Yangzhou in Jiangsu province, remembers when he was a child, each family made their own savory tangyuan with shepherd's purse (a spring seasonal wild vegetable) and pork fillings.
Yuanxiao or tangyuan are both usually boiled and eaten with soup, but the soup is a bit different-the tangyuan soup is usually clear, and the yuanxiao soup is often opaque.
In northern China, there's another way of cooking yuanxiao-frying. The trick is to fry it without causing the filling to burst out. To do that, the oil needs to be 70-percent-hot oil and the yuanxiao should be fried for 30 seconds. Stab several small holes in the surface, and fry them again for four to five minutes to ensure a crispy crust.