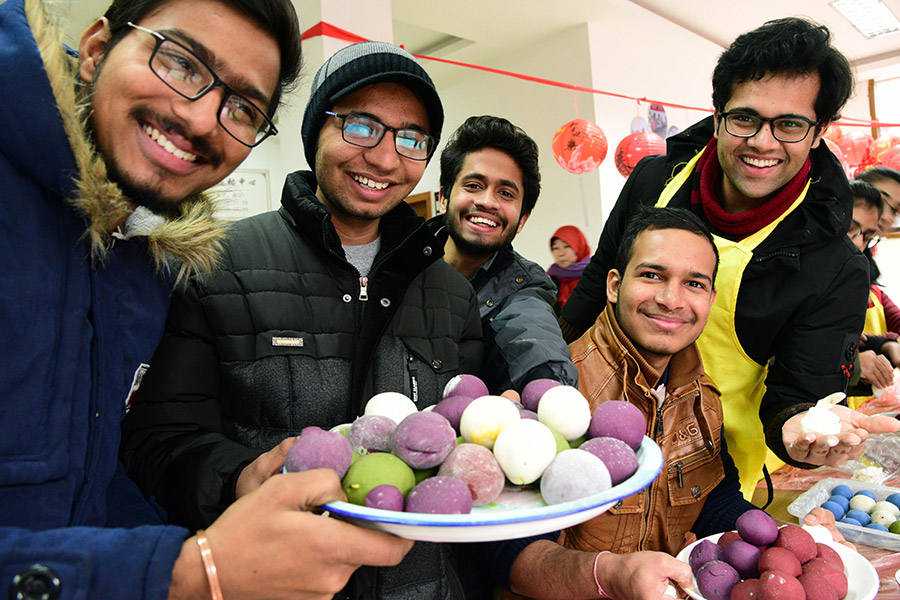 International students in Zhenjiang, Jiangsu province, make yuanxiao along with local residents on Thursday. [PHOTO BY SHI YUCHENG/FOR CHINA DAILY]
According to Zhao Guangyou, executive chef of Beijing cuisine restaurant, J&E Mansion, there is yet another traditional way of cooking yuanxiao in northern China-by boiling the yuanxiao in fermented glutinous rice soup and adding preserved fruit before seasoning with sweet osmanthus blossom honey.
Traditionally, the lanterns will be taken down on the 18th day of the first lunar month, and with the removal of the lanterns, the yuanxiao also disappears, and a year will pass before they are tasted once more.
However, in recent years, new versions of tangyuan are being created by Chinese chefs, so that diners can enjoy this delicacy all year round.
As well as eating yuanxiao, appreciating lanterns is the essential part of celebrating the festival. Many cities will host lantern fairs in their parks and open spaces.
In northern China, instead of the regular paper lantern, people used to make ice lanterns of different shapes and sizes to hang outside each family's door. They're best made from purified water, so that the ice is perfectly transparent, with no bubbles, before putting a candle inside.