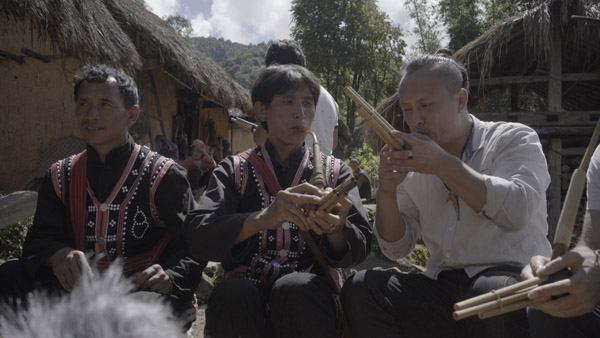 Sigao Ala learns to play the lusheng from a rural resident during the band's trip to Yunnan [Photo provided to China Daily]
Percussionist Debell, who had been to Laodabao in 2016, found that the Lahu people also use percussion instruments, which are similar to those used by other ethnic groups in that area.
"A lot of folk music is disappearing as many people are leaving the old villages. Only old people live there because they are used to the life," says the band's drummer Ou Jianyuan, known by his stage name Xiao Ou.
"We hope to play traditional music in such a way that it appeals to today's youth, so that they will pay more attention to traditional culture."
The influence of Western missionaries in the 19th century is still apparent in Lahu villages, as many residents learn choral singing and know how to play the guitar.
"From the kids to the adults, the village is one big choir," says Debell of Laodabao.
The classically trained musician, who has lived in Yunnan since 2001 and worked with bands such as Shanren, adds that the documentary is a good way to introduce the Lahu people to the world.