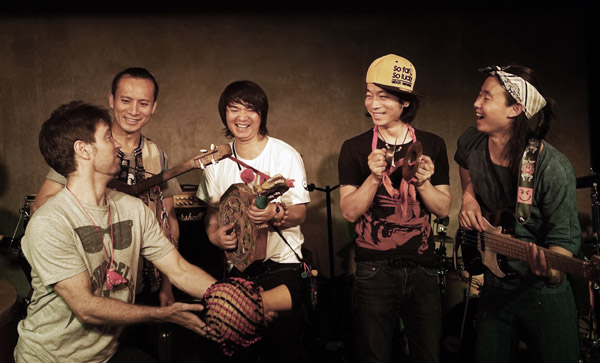 Shanren's members (from left) Sam Debell, Sigao Ala, Qu Zihan, Xiao Ou and Xiao Budian. [Photo provided to China Daily]
The documentary opens with scenes from the daily life of the Lahu people, who sing and dance in traditional clothes, accompanied by a song performed in the local dialect. The Lahu song, Together, written by Li Naluo from Laodabao, depicts the locals celebrating Lunar New Year.
The documentary also shows members of Shanren learning to play local musical instruments such as the Lahu sanxian (a three-stringed plucked instrument) and lusheng (a reed pipe wind instrument) from rural residents and recording folk tunes. It was the first time that most of the band members had visited the two villages.
"According to local folklore, the Lahu people were born from gourds. Through generations, their music has been passed down orally," says Shanren frontman, Qu, who grew up in the mountainous areas of Yunnan and learned many local ethnic songs.
Influenced by rock music, he founded Shanren in 1999.
The band's bassist Sigao Ala says some words and phrases in Lahu are similar to those of the Yi ethic group, from which he comes.
"Although it was the first time that I visited a Lahu village, I felt a sense of closeness and soon grew curious about the language connections between the Yi and Lahu people," he says.