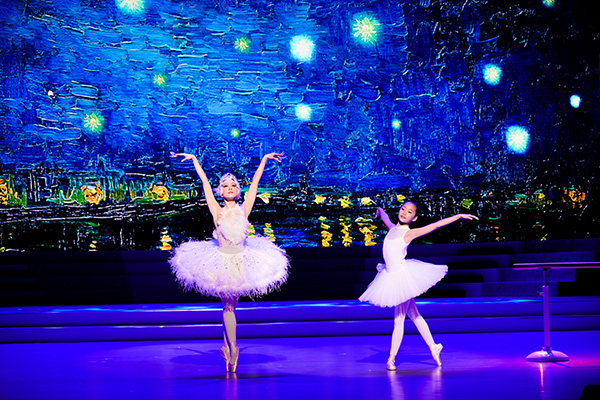 Zhao Chencong, a student from the Duancun primary school in rural Xiongan, Hebei province, performs onstage with professional ballet dancer Qiu Siting. [Photo provided to China Daily]
The event co-organized by tech company Tencent and the Beijing Hefeng Art Foundation enabled Xinyao and other rural children to realize their dreams of performing on a national-level stage.
Hefeng and Tencent brought professional teachers from Capital Normal University to Xiongan and offered weeklong intensive training to 700 local art and music teachers in July 2018.
The classes were livestreamed to teachers in other rural regions, too.
"These trained teachers are like seeds. They can help spread quality arts education to many students in rural areas," Hefeng's founder and honorary chairman Li Feng says.
Li has been dedicated to promoting quality arts education in the countryside for about six years.
He believes the arts can inspire children, and stimulate their imagination and creativity while boosting their confidence.
Quality education in the arts is common in cities. But it's rare in China's vast countryside, where he estimates about 60 million children have no access to quality music and painting classes, due to a lack of proper spaces and teaching personnel, and the presence of exam-oriented education.
His foundation has brought training in fine arts, dancing and music to rural students across China.
"All they need is an opportunity," Li explains. "You notice how an education in the arts changes them."
Li's foundation and Tencent decided to partner to launch the campaign a year ago.
"As an internet-based company, Tencent hopes to make its own contribution in this field," says Cheng Wu, vice-president of Tencent.
"With professional institutions like Hefeng, we can explore new models of 'internet plus art education' by using new technologies, such as artificial intelligence, to let the seeds of art be sown in more rural children's hearts."