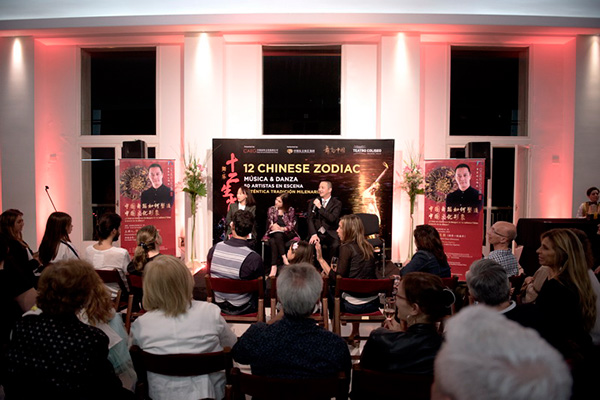 One of the Chinese Culture Talk lectures on Chinese dance, held on Nov 26 at the arena theatre in Buenos Aires, capital of Argentina. [Photo/Chinaculture.org]
A lecture on Chinese dance was held on Nov 26 at the arena theatre in Buenos Aires, capital of Argentina.
Given by Shen Chen, chief director of the musical theater production 12 Chinese Zodiac, the lecture explained how Chinese dance shapes Chinese culture.
Argentine writer Ludovica, author of the book My China, was invited to join a conversation with Shen Chen to talk about Chinese dance and the culture of the zodiac from the perspective of an Argentinean.
The production 12 Chinese Zodiac focuses on Chinese stories, dances, and traditional Chinese culture. It integrates the unique Chinese cultural symbol of 12 zodiac signs and implies a 12-year cycle of recurrence, thereby interpreting the grand theme of "time and life" embodied in it.
Starting from one chapter of the 12 Chinese Zodiac, Shen Chen talked about the history of the traditional Chinese dance, and then analyzed the performing styles of horses in different countries. He then talked about the artistic conception of traditional Chinese dance and compared artistic expression in eastern and western countries.
In order to give the audience an intuitive sense of the beauty of traditional Chinese dance, actors from 12 Chinese Zodiac were invited to the lecture to demonstrate the dancing postures for imitating different zodiac animals in different countries' dance.