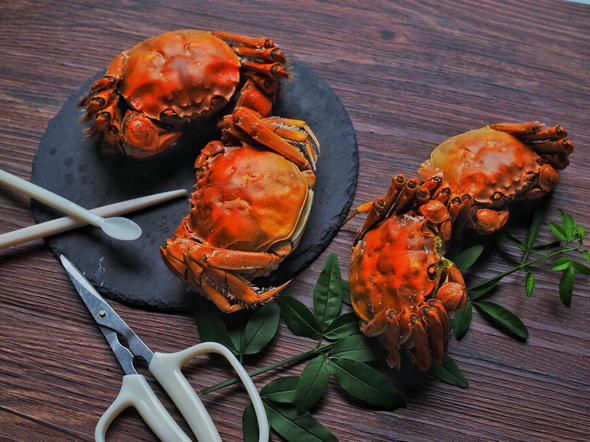 During the ninth and 10th months of the lunar calendar, China's culinary scene is all about hairy crab, also known as Chinese mitten crab. [Photo provided to China Daily]
The Mid-Autumn Festival is a holiday where the family gathers together, but for fishermen living around Yangcheng Lake, it's also the start of the year's harvest.
The harvesting of Chinese mitten crabs (eriocheir sinensis) in Yangcheng Lake in Baicheng Town of Kunshan, East China's Jiangsu province begins on Sept 21 with a ceremony.
From that date till the end of December, fresh plump goldenclaw crabs are delivered to dinning tables all over China.
Chinese mitten crabs from Yangcheng Lake are also known as big sluice crabs, which are known for their sweet meat.
Zhan Zhiming, the vice-executive chef of the Din Tai Fung chain of restaurants, enjoys catching crabs.
Zhan, who used to catch wild crabs in Taiwan when he was young, says: "The crabs in Yangcheng Lake bite harder as they are well fed."
Yangcheng Lake provides enough sunshine for water plants to grow, providing enough food for the crabs, and the flat and hard lake bed make a perfect place for the crabs to thrive.
"The crabs have white bellies and golden claws," says Zhan.
"We typically source male crabs which weigh more than 200 grams, and female ones weighing more than 150 grams."
Din Tai Fung has taken up a part of Yangcheng Lake to breed its own crabs.
"After multiple trials, we figured out how to raise crabs properly," says Zhan. "They need to eat fresh fish, or small shrimp."
Din Tai Fung is popular for its steamed dumplings, which Zhan has mastered after years' practice. Now, he can make eight dumplings a minute, each with 18 folds.
At Din Tai Fung, the crab meat and roe dumplings are the most popular.
The fillings comprise 70 percent crab meat and roe and 30 percent pork, with the sliced ginger and vinegar dip adding the final touch.
According to Zhan, the crab meat and roe in the fillings comes from Chinese mitten crabs in Yangcheng Lake.
Speaking about the restaurant's other crab dishes, Zhan says each one is designed to highlight the flavor of both the crab meat and the other ingredients.
"Take fried crab meat and roe with asparagus for example-the asparagus has both a sweet and bitter flavor, but after it is fried with crab meat and roe, its sweetness gets elevated and the bitterness is gone," says Zhan.
The crab meat and roe dishes involve a huge amount of work. And each Din Tai Fung restaurant has a team of about 40 only cracking the crabs and getting the meat and roe out.
"It's team work. One person tears the crab into different pieces-claws, shells, or breasts-and puts each part in different compartment," says the 40-year-old.
Then, in the second step each part has to be cracked and the meat taken out with different tools.
Five to six chefs join hand to tear each crab.
"It (cracking the crabs) may seem like a small job, but every detail has to be done right, such as to control the temperature-if the room gets too hot or too cold, the crab will lose its shape.
"Each (restaurant) team has to deal with hundreds of kilograms of crabs each day, sometimes, more than a ton," says Zhan.
Crab tofu
Ingredients
Two crabs, one box of tender tofu, one shallot, ginger 5 grams, one tablespoon liquid starch, one tablespoon yellow wine, one teaspoon salt, one table spoon oil
1. Wash and steam the crabs, pick out the crab meat and crab roe
2. Cut the crab meat and crab roe and mix them together
3. Cut the tofu into 1.5 centimeter squares
4. Boil a pot of water, adds a teaspoon salt and put the tofu into the water. Turn off the heat and take the tofu out
5. Heat oil in a pan, add shallots and grated ginger
6. Put crab meat and roe into the pan, and add yellow wine and water
7. Boil the water and turn to medium heat. When the crab meat gives out its umami flavor, add tofu and boil for three minutes
8. Add salt and liquid starch, and then turn off the heat