Chang Pao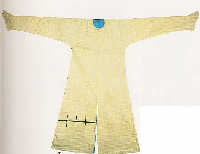 Chang Pao was men's common wear, lower than the knees and with a round collar band. It was a long gown featured collarless, narrow horseshoe-shaped sleeves, buttons down the left front, four slits and a fitting waist. The slits could enhance men's freedom of mobility while they were riding the horse. Men wore thin Chang Pao made of cotton cloth in the summer, and warm cotton Chang Pao or fur-lined robe in the winter.
Chang Pao was originally the typical Manchu costume with horseshoe-shaped sleeves and slits on the four lower sides of the gown. Manchu came from the Northern region where its winter was much colder than Central China. These horseshoe sleeves were designed to cover the hands during winter times and men would curl the sleeves up during hunting or conducting their daily business. Therefore, during the early years of the Qing Dynasty, all male clothing had horseshoe-shaped sleeves. Like the Manchu, they would curl the sleeves up when they going about their daily business. When the imperial officers kowtowed to his superior officers or the emperor, the sleeves had to be to let down, covering the hands.
Meanwhile, the Manchus were known as people on the ride; hence their gown had four slits, with one on the left, right, front and back, which reached the knees. It was fitted to the body and rather warm. Fastened with a waistband, the long gown could hold solid food and utensils when people went out hunting.
With the changing of lifestyle and the integration of Han and Manchu cultures, Chang Pao changed a little bit later on, as the horseshoe-shaped sleeves were given up, and the style of four slits changed into two slits or even none. But you could still find horseshoe-shaped sleeves and four-slit style on Qing official gowns and that of people of high status.
Men's long gowns were mostly blue, gray or green; and women's, white. Some women decorated their gowns with beautiful silk ribbon laces at the front, the neckline and sleeve margins.