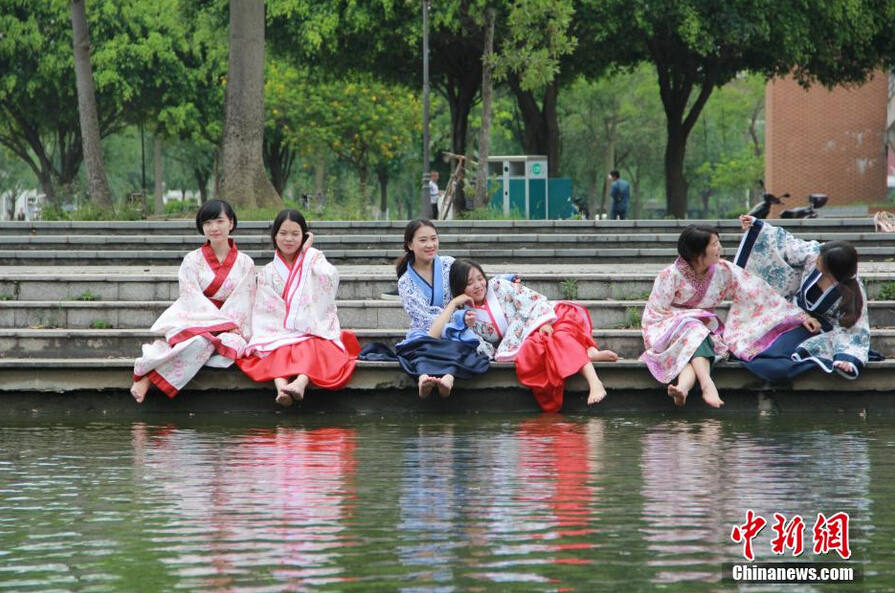 Photos of seven graduates from Fujian Normal University wearing Chinese traditional costume "Hanfu" go viral online. "Hanfu" has a history of more than three millennia. A "Hanfu" Movement has emerged since around 2003 to reintroduce the ancient Han Chinese clothing styles into modern life. The group of photos are deemed "the most beautiful graduation photos ever" by netizens. [Photo/Chinanews.com]
Ancient attire has once again seen a public revival after Chinese authorities launched an unprecedented cultural event on Wednesday. The event was organized to encourage young Chinese of all ethnic groups to wear and take pride in their traditional clothing.
The first-ever Traditional Chinese Garment Day, which was organized by the Central Committee of the Communist Youth League (CCCYL) together with anime-streaming platform bilibili.com, invited netizens to post their pictures in traditional costumes. It was planned in an effort to promote classic Chinese culture, as well as "demonstrating cultural confidence."
CCCYL released an announcement on its official Weibo page on Wednesday, stating"Traditional culture is the lifeblood of China and a source of innovation for the Chinese people. We hope young Chinese people can wear their traditional garments during festivals and important occasions, in order to showcase China's unique culture to the world."
The initiative has led to an online frenzy. At the time of writing, the hashtag #ChineseGarmentDay had already garnered over 155 million page views, with thousands of netizens sharing their pictures in traditional costumes.
"I feel extremely happy that the government has shown such great support to revitalize the lost Chinese costumes. This would be a great opportunity for the young generation to better understand our culture, as well as feeling proud of being a Chinese," Chen Chuyu, leader of a Beijing-based Hanfu institution, told People's Daily Online.
Though most Chinese consider traditional Chinese garments as the garb of the Han Chinese before the Qing Dynasty (1644-1911), there is an argument that the traditional dress of other ethnic minorities in China, such as Manchu and Tibetan, should also be included in the term's reference.
Historically, Han Chinese clothing has influenced many of its neighboring cultural costumes including the Japanese Kimono and Korean Hanbok. Being influential to many other countries, these garments started to fade in origin when Manchu people ruled China. During this period, they forced the Han people to drop their costumes, and so this piece of China's cultural identity almost died out in the 20th century.
The popularity of Hanfu has risen to the point where businessmen and ordinary people have taken notice over recent years. According to Hanfu Information (HI), a Hanfu promotion group, over 21,000 sets of Hanfu were sold on Taobao in March. Another online survey by HI in 2017 showed that over 88 percent of respondents believe that wearing Hanfu is a good way to learn about Chinese culture.
"Since China is becoming a leading power in the world, the Chinese public feel more confident about their traditional culture, while wearing a traditional garment might be an interesting way of showing such sentiment," Chen added.
According to CCCYL, the organizers plan to make the Traditional Garment Day an annual event and have set the third day of the third month of the Chinese lunar calendar, which is also the birthday of Chinese people's mythological ancestor Yellow Emperor, as the date of the festival.