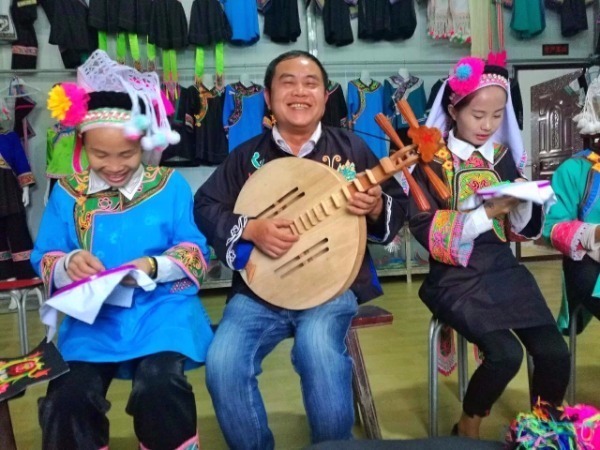 Wei Bo (center) shows off a traditional Bouyei instrument in his factory while women make handmade embroidery for clothes.[Photo provided to China Daily]
The ongoing two sessions in Beijing are the first that Wei Bo, a new deputy to the National People's Congress from Guizhou province, has attended.
The sightly tanned Wei, from the Bouyei ethnic group, is dressed in a black Tang suit. And some strings, twined with purple and white threads, are on the edge of the pockets and the stand-up collar, forming patterns that resemble rippling water.
"The fabric of this outfit was woven and dyed in my clothing factory - all of it is handmade," says Wei, touching one of the sleeves with his fingers.
His factory, based in the Bouyei and Miao autonomous prefecture of Guizhou, processes handmade embroidery into clothes.
It not only provides hundreds of jobs for the townspeople but also promotes Bouyei's traditional costumes.
The Bouyei people mainly inhabit southwestern China. And Wei decided to build the factory there so that women - who had been left behind to take care of their children after their menfolk left for the cities to find work - could earn a living.
He started the business of making ethnic costumes in 2013 and named the factory after his wife, Wang Weixian.
He had previously dealt in tea, owned a car rental agency and ran a driving school.
To start the factory, Wei used 120,000 yuan ($19,000) of his savings to buy embroidery from local Bouyei women. At that time, only a few elderly women knew how to do embroidery.
"Bouyei embroidery was almost extinct before the factory came into being," says Wei. "So I started it to also promote ethnic culture and skills."
In 2014, Wei set up a workshop on the second floor of his house. There, three women worked on their embroidery.
Later, as the business expanded, the number of full-time workers grew to eight.
Now, more than 200 freelancers work from home, where they create embroidery based on patterns provided by Wei.
Among the freelancers are 38 women from impoverished families. Their annual income sometimes reaches thousands of yuan, which means a lot to them and their families.
Wei and his workers also offer embroidery training courses to primary and secondary students during their summer and winter breaks.
Wei hopes that by doing this, the once-endangered Bouyei garment-making skills can be passed on to the next generation.
Giving an example of how the skill is being promoted, Wei played a video clip on his mobile phone that showed his 10-year-old daughter, Wei Lu, teaching a former NPC deputy about embroidery.
Wei Lu began learning embroidery from her mother and grandmother when she was 4.
The father, with a proud smile on his face, says that Wei Lu is the youngest embroidery exponent in the prefecture and had already taken part in an embroidery competition.
He says his daughter's five classmates came to his home during the holidays to learn from the girl how to embroider.
For now, the products manufactured at Wei's factory range from Bouyei costumes and embroidered shoes, to handbags, cushion and coasters.
As for customers, many Bouyei couples buy clothing from Wei's factory for their weddings.
Also, Wei's factory has won many overseas fans. And orders from countries including the United States, Germany and Russia have been coming in through e-commerce platforms since early 2014 after Wei gave a visitor from the US a handbag as a present.
The next goal for Wei is to make his Bouyei clothing business into a tourism product. And he also wants to build a Bouyei garment museum.
As for his long-term plans, he hopes to develop the factory into a large-scale enterprise.