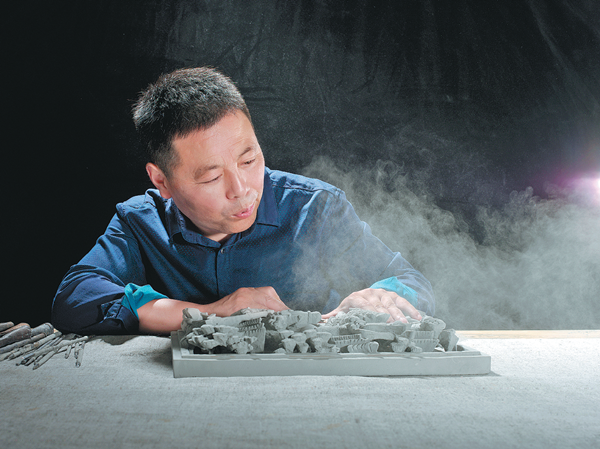 Wu Zhenghui has dedicated himself to the art of brick carving for 28 years. Provided to China Daily
There are countless well-preserved ancient buildings in Huangshan, formerly known as Huizhou, in Anhui province, and one of their prominent features is the exquisite brick carvings above their doorways.
Brick carving is among the best-known forms of Hui carving, along with stone carving and wood carving, all of which have a long history and are treasured for the artistry they display.
Brick carving's halcyon days were during the Ming (1368-1644) and Qing (1644-1911) dynasties, top masters being able to carve nine-layer patterns in an eight-centimeter thick brick.
These days those who can master such skills are few and far between, most being able to carve three to five layers of patterns in a brick at the most. Wu Zhenghui is one of those who breaks that mold, able, like the ancient masters, to carve nine layers.
Wu was born in Bei'an, Huangshan, which also happens to be the birthplace of Hui-style brick carvings. He was fascinated by painting as a child, and when he was in junior middle school he learned woodcut printing.
After graduating he entered a vocational school where he studied gardening design, traditional Chinese painting and advertising design.
He also attended brick carving classes, he said, attributing his interest in the craft to his family background. His father was a well-known brick carving artist in his hometown.
In 1987 Wu began his career as an ink stone-carving worker, carving bricks every now and again when his employer received an order.
Two years later he worked on a big brick carving project in the Grand View Garden Area in Shanghai.
Since then he has dedicated himself to the art of brick carving, and opened his own workshop.
Collecting brick carvings has become popular since the early 1990s, and friends of Wu amassed such works from remote villages and sent them to his workshop.
Some fine works, showing the wear and tear of time, were given to him to be repaired. As he worked on these pieces, some of them masterpieces, his carving skills rapidly improved.
After the Ming Dynasty, merchants from Huizhou gained a monopoly in producing and selling salt and became immensely rich.
"Huizhou people, whether they were officials or traders, attached great importance to creating an ideal living environment at home," said Hu Jianbin, the culture bureau chief of Huangshan.