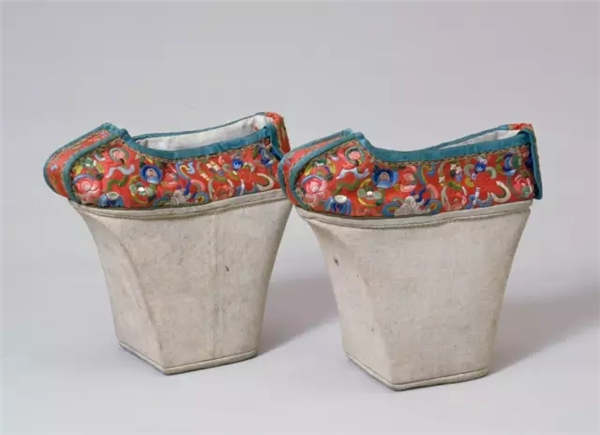 A pair of red embroidered flower-patterned chopine, 17cm high, from the Palace Museum's collection. [Photo/Official Wechat account of Palace Museum's Taobao]
Chopine
Ancient beauties preferred to wear chopine, just like the modern day enthusiasm for high heels. Chopines were quite popular in the Qing Dynasty (1644-1911), and had different types according to the different shapes of the shoe soles. There were shoes with a common sole, flowerpot-shaped sole or ingot-shaped sole. The popularity of chopines matched the long robes in vogue in the Qing Dynasty.
The Empress Dowager Cixi of the Qing Dynasty was crazy about chopines, and most of her shoes were luxurious, made with elaborate embroidery and valuable jewels.
Though the chopines made females look more graceful, they were not easy to walk in.