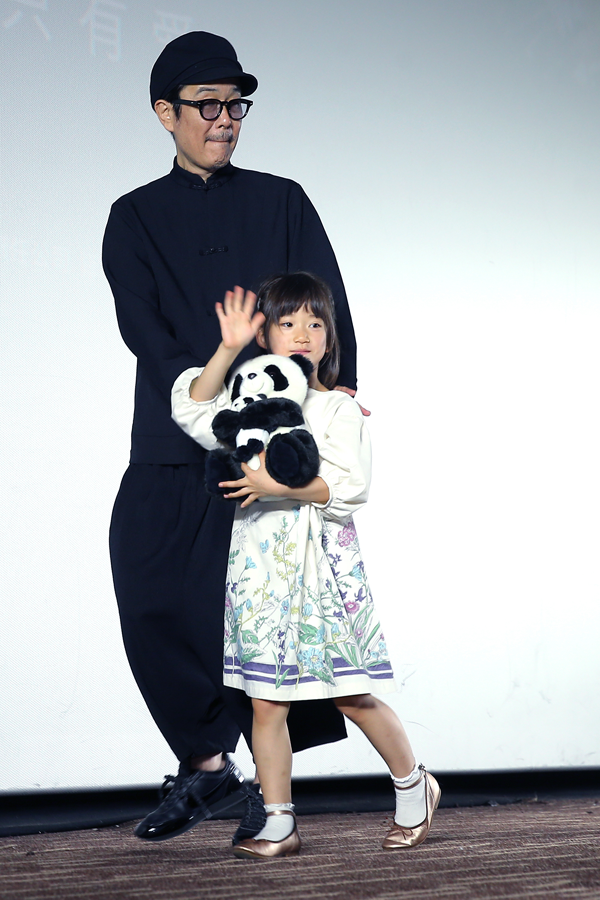 Shoplifters' actor Masaya Nakagawa, who's better known by his stage name, Lily Franky, alongside 6-year-old actress Miyu Sasaki appear at the film's premiere in Beijing on July 31. [Photo provided to China Daily]
A source close to Road Pictures, the Beijing-based distributor of Shoplifters, tells China Daily that the company acquired the movie's screening rights for at least 50 percent more than the price they offered before Cannes unveiled it was the big winner.
The source also says the company will be interested in buying more Japanese films if the stories are high quality.
Usually, Chinese distributors import theatrically released foreign films in one of two ways.
One is a box-office revenue-sharing system, which is limited by an annual quota of 34 films and gives the foreign producers 25 percent of its total earnings in China. Such films are mostly Hollywood blockbusters that are released simultaneously or around the same time in both China and North America, and often the stars fly in to promote their movie in China.
The second way is through one-off purchases without sharing profits. These are mainly imports of comparatively low-budget, independent films that have run outside China for several months-or possibly even years. Directors and actors usually won't come to China to promote them as their contracts for the films' marketing have expired.
Although Shoplifters has been brought to the mainland through the latter channel, the movie's leading actor, Masaya Nakagawa-who's better known by his stage name, Lily Franky-appeared alongside 6-year-old actress Miyu Sasaki at the Beijing premiere on July 31, signifying an effort to raise recognition of the film during the competitive summer season.
During the event, Franky says Japan's film industry is less than 10 percent of China's, and he hopes Shoplifters will share a minor slice of China's huge market.