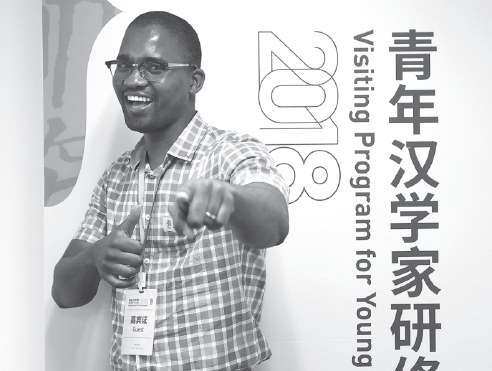 Gracious Masule, a Botswanan Sinologist, is a Chinese language teacher at the University of Botswana. [Photo provided to China Daily]
A Botswanan Sinologist shares his story of how he gave up studying computers in favor of a language.
When Gracious Masule introduces himself, he always remembers to mention his Chinese name "Ma Yinan" and his "Chinese hometown" - Changsha, the capital of Central China's Hunan province.
The Botswanan Sinologist, who is a Chinese language teacher at the University of Botswana, speaks fluent Chinese and has good understanding of Chinese society.
Masule is one of the foreign scholars invited to the ongoing Beijing Class of the 2018 Visiting Program for Young Sinologists, which kicked off on July 6 in Beijing and will last for three weeks.
The program has brought together 38 Sinologists from 34 countries for research and study at several institutes in Beijing.
The program, which was started by the Ministry of Culture and Tourism in 2014, aims to strengthen cultural exchanges and set up a platform for young Sinologists worldwide to communicate and learn more about Chinese culture and history.
Masule applied to the program after hearing about it at the Chinese embassy in Botswana.
Masule and other young Sinologists will attend lectures by Chinese scholars, and conduct research at academic organizations or universities, including Peking University, over the next two weeks.
They will then visit Guizhou province in Southwest China to learn about its ethnic culture and eco-civilization practices.
"I am very glad that I have been given this rare opportunity. For me, the main purpose of it is to learn more about Chinese culture and history," says Masule, 33.
Masule says his love affair with China began when he was a college student.
In 2009, he was working as a teaching assistant at the University of Botswana after graduating with a computer science degree.
"I thought I'd be a teacher, and then a professor, in the computer science department," he says. "However, all that changed after an encounter with Chinese."
At that time, the Confucius Institute based in his university started to recruit students in Botswana. And Masule, who wanted to better communicate with his Chinese friends and their families back then, signed up.
After less than half a year of study at the institute, Masule's Chinese language skills improved dramatically. And even his teachers were impressed by his ability to learn the language so quickly.
"I was encouraged then felt grateful when I received a certificate from the Chinese ambassador. I fell in love with Chinese and wanted to go to China to learn more," he says.
In 2011, he applied for a scholarship and came to study for his master's degree in computer science at Hunan University in Changsha.
Describing his experiences there, he says he found the local people friendly and was able to make friends easily. They were also curious about his ability to speak such good Mandarin.
He was even invited to visit and stay at his friends' homes in places outside Changsha.
When he later studied in Shanghai, he'd still go back to Hunan to spend the Spring Festival holiday with his "Chinese families" there every year.
"I feel Hunan is my hometown in China. And now I always tell people that I come from Hunan."
Masule also says that the three years he spent in Hunan changed his career path.
"Although I was busy studying computer science, I never gave up learning Chinese," he says.
And when he realized that it was impossible to do both computer science and Chinese as writing his masters' thesis for his major was too time-consuming, Masule finally decided to give up on computing and focus entirely on Chinese.
In 2013, he passed the level 5 examination for Chinese and was admitted to Shanghai Normal University to study international education in Chinese.
Then, in 2015, he was recommended by his department to participate in the "Confucius Institute Cup" Chinese teaching competition held in Beijing, where he won the first prize.
He returned to Botswana after graduating in 2016, and became the third Chinese teacher at the University of Botswana, which has a number of projects with China, including a department of Chinese set up in 2011.
"My dream of becoming a Chinese teacher has come true," he says.
"I enjoy sharing what I know with others."
Although his teaching schedule is packed due to a lack of teachers, Masule enjoys his work.
"I like Chinese and I also like teaching Chinese to students. Studying Chinese has opened a wonderful door in my life," he says, adding that he plans to return to China for further study and carry out more research on the Chinese language.
After returning to his home country, Masule sees himself as a bridge between China and Botswana.
"I hope that by studying the language, I can help the Botswanan and Chinese peoples grow closer and better understand each other," says Masule, who often hosts activities to spread Chinese culture in Botswana and is often invited to anchor events hosted by the Chinese embassy in Botswana.
Last year, Masule married a Chinese woman, whom he met when studying in Shanghai, and the two now live in Botswana.