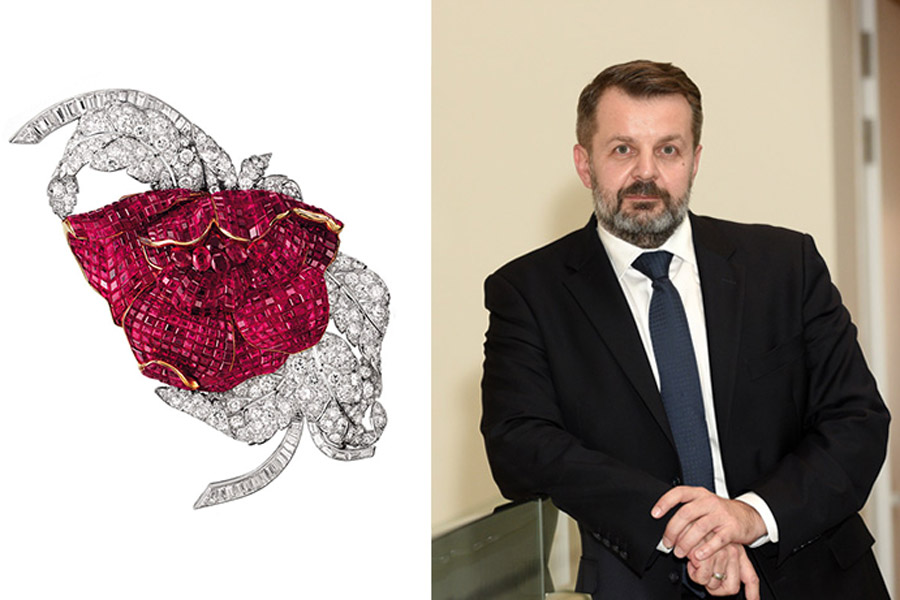 Vincent Meylan and one of his favorite jewels – the peony clip from the Van Cleef & Arpels collection. [Photo provided to chinadaily.com.cn]
"I think jewelry is my dream and my life. It has always been something really special," said Vincent Meylan, editor-in-chief of French tabloid magazine Point de vue. Meylan shared his stories on the occasion of French jewelry brand Van Cleef & Arpels' exhibition in Beijing.
Having written about jewelry and legendary figures around it for 25 years, Meylan is the author of many books such as Boucheron: The Secret Archives, Mellerio: Jewellers to the Queens, and the recent Van Cleef & Arpels: Treasures and Legends.
His lecture last Sunday, held at the Today Art Museum, centered on the history of VCA's iconic designs, most of which are on display at the Beijing exhibition.
First presented in 2012 at Paris' Musée des Arts Décoratifs, this exposition is traveling for the first time, taking up residence in China from April 21 to August 5. Enriched with new acquisitions, it is comprised of over 360 creations from both the company's public and private collections.
Displayed chronologically, they demonstrate the intriguing historical and aesthetic evolution of VCA's style, studded with technical inventiveness and passed down through generations of virtuoso craftsmen.
For Meylan, jewelry is made of three things: stones, savoir-faire and desire. "Precious stones are miracles of nature. It takes millions of years to create a diamond, then someone finds it in a mine and afterward puts it on a piece of jewelry," he said in his lecture on Sunday.
"A skilled jeweler spends 2,000 hours to make just one exquisite brooch," he said, gesturing to a peony clip, one of the brand's classic designs. "Besides the miracles of nature and man, in the end, you need someone who wants to wear it."
Under the luxurious guise, these sparkling creations hold an enchantment for jewelry lovers. "A piece of jewelry can be kept all your life, passed down through the family. It is also something deeply personal – you wear it on the skin," he said.
"I always think the best place to look at a piece of jewelry is on a plane. You are absolutely alone, no telephone, no interruptions and the light above the clouds is just amazing."
Over the years, the art of Van Cleef & Arpels has attracted such personalities as Elizabeth Taylor and Maria Callas. Their names evoke the history of high society from the Roaring Twenties to the 1950s, the advent of film stars and the destinies of great royal families.
Special orders were created for Princesses Fawzia and Soraya and the Empress Farah Pahlavi of Iran, in addition to the Maharani of Baroda, the Duchess of Windsor and Princess Grace of Monaco.
If you go:
10 am - 6 pm, through Aug 5 (closed on Mondays). Today Art Museum, Building 4, Apple Community, 32 Baiziwan Road, Chaoyang district. 010-5876-0600.