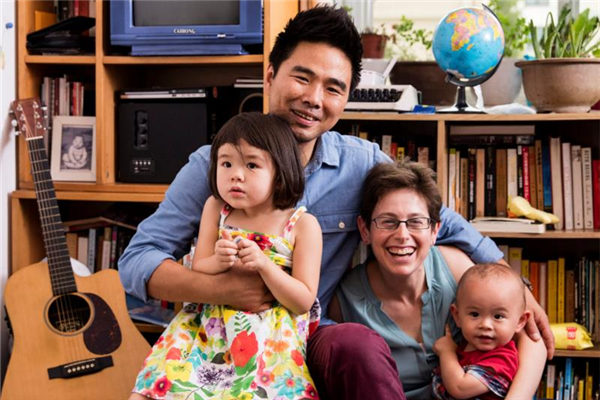 Liu Jian and Rebecca Kanthor with their two children. [Photo provided to chinadaily.com.cn]
With great love for music and an international outlook, the enterprising new music festival Hand in Hand takes the initiative in creating a music festival experience for Chinese families.
It is China's first international music festival designed for parents and children. Chinese singer-songwriter and author Liu Jian and his American journalist wife, Rebecca Kanthor, created Hand in Hand for their children and all kids in China to hear the best live music for families from around the world and learn about different cultures through music.
The idea was to offer music-loving parents like themselves more child-friendly music events.
"We used to go to music festivals and live music shows all the time. But after we had kids, we didn't go as much, because it was too hard to take our kids where they weren't comfortable," Liu said.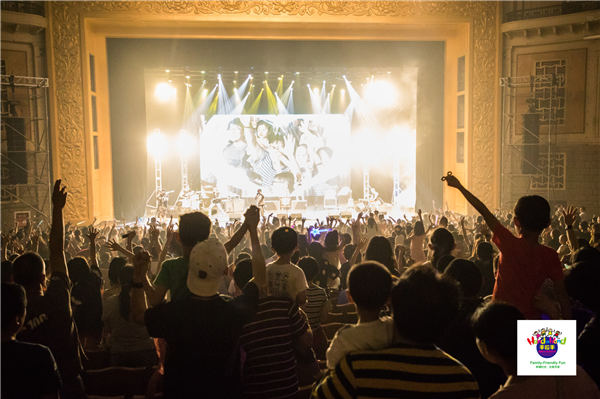 A concert thrills an audience at the Beijing Exhibition Theater on June 3, 2018. [Photo provided to chinadaily.com.cn]
Having decided to improve the situation, Liu saw the answer in a children's music CD from US. "It was so good, I was inspired to bring them to China to tour. Then we realized that there are so many great bands for kids all over the world and the idea for the festival was born," he said.
The couple launched Hand in Hand in 2017 and joined hands with Emmy-winning Lucky Diaz and the Family Jam Band from the US, as well as acclaimed rock band Hippe Gasten from Holland.
So far the musicians have traveled to Shanghai, Chongqing, Chengdu, Hangzhou, and Nantong and performed for over 20,000 people. During the 2018 tour, Hand in Hand will entertain audiences in Shanghai, Shenzhen, Chongqing, Chengdu, Shijiazhuang, Beijing, Zhoushan and Guangzhou, and in East China's Zhenjiang province.