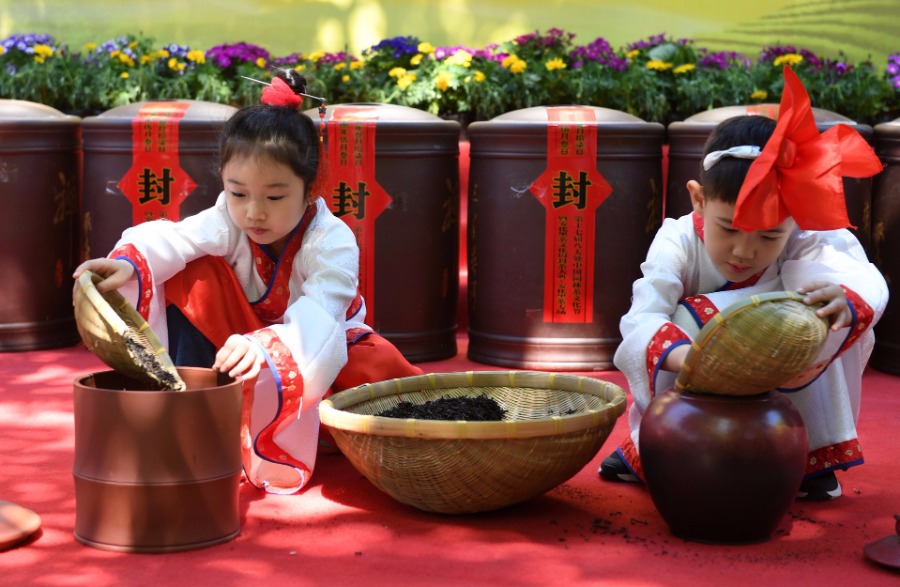 [Photo/Xinhua]
A group of tea masters born in the 1990s have drawn public attention by performing at two tea competitions ahead of the ongoing China International Tea Expo (Nanchang) in East China's Jiangxi province.
Dai Haiqing participated in the hand-made tea competition in Fuliang county and presented his tea roasting skills during the tea-art competition in Wuyuan county late last month.
The 22-year-old, who was born to a family of tea growers, became a tea master after graduating from Jiangxi Wuyuan Tea School and now works for a local tea company.
"When I was 7 or 8 years old, I helped pick tea leaves. While in middle school, I went back home on weekends to help my parents to roast tea-leaves," he said.
"Wuyuan boasts the ideal environment and climate for tea planting. I want to preserve traditional tea-making techniques and promote local tea to the whole country," he said.
"The more I get to know about traditional techniques, the more I appreciate them," said Huang Yanmei, a 21-year-old tea-making competitor from Hunan Agricultural University.
Regularly, fresh te in a deep wok. This process allows the leaves to dry in a way that preserves their full flavour.
"Making high-quality tea gives me a sense of accomplishment that makes me forget the pains of the process, for example, burning my hands on the wok," Huang said.