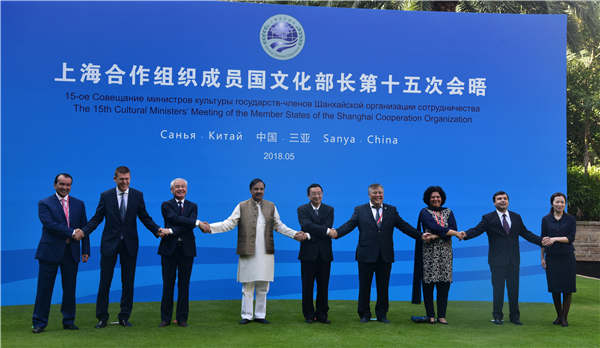 The cultural ministers of the member states of the Shanghai Cooperation Organization take a group photo in Sanya, Hainan province, on May 17. [Photo by Zhang Xingjian/Chinaculture.org]
The 15th Cultural Ministers' Meeting of the Member States of the Shanghai Cooperation Organization was held in Sanya, Hainan province, on May 17.
The meeting was co-organized by the China's Ministry of Culture and Tourism and Hainan province's government.
The meeting marks an important diplomatic event in the field of cultural and people-to-people exchange before the 18th summit of Shanghai Cooperation Organization scheduled in Qingdao, a coastal city in East China's Shandong province, in June.
It is worth noting that the city Sanya has held the meeting for the second time, as the 7th SCO cultural ministers' meeting also took place there in 2010.
The Shanghai Cooperation Organization is a permanent intergovernmental international organization. Currently, the organization comprises eight member states, - the People's Republic of China, the Republic of India, the Republic of Kazakhstan, the Kyrgyz Republic, the Islamic Republic of Pakistan, the Russian Federation, the Republic of Tajikistan, and the Republic of Uzbekistan.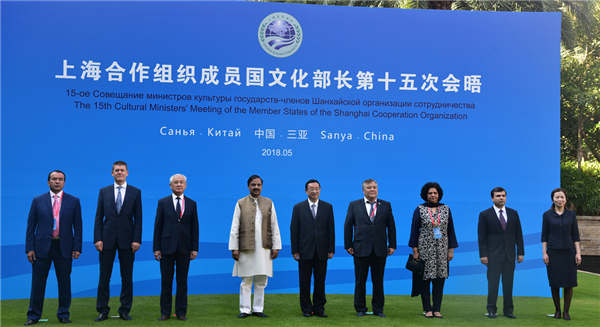 The cultural ministers of the member states of the Shanghai Cooperation Organization take a group photo in Sanya, Hainan province, on May 17. [Photo by Zhang Xingjian/Chinaculture.org]