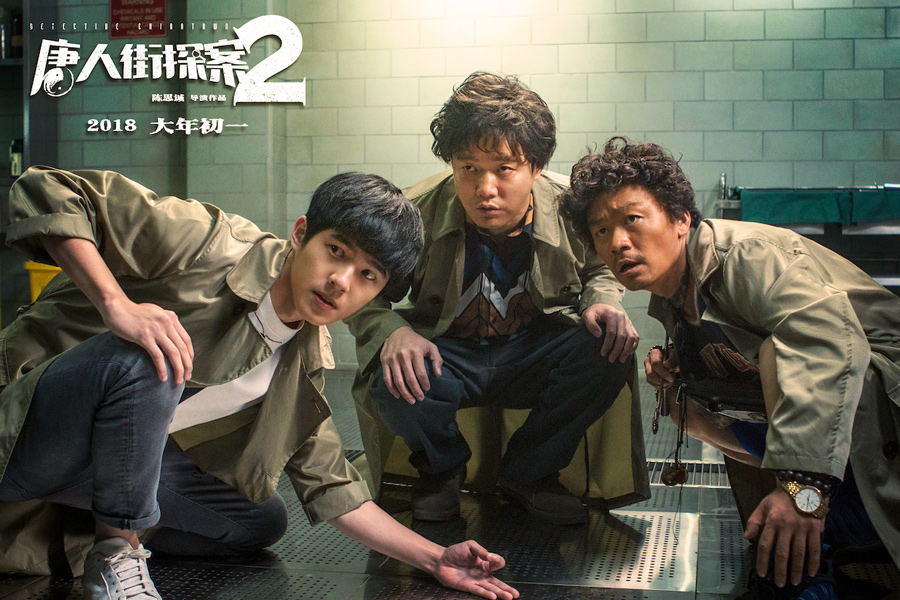 A scene from the film  Detective Chinatown 2 [Photo/Mtime]
This box office boom isn't in one particular type of film, either; Chinese audiences have diverse tastes. The five domestic films mentioned above vary in genre and style.
For instance, Operation Red Sea, the first movie co-produced with the PLA Navy, is loosely based on the evacuation of Chinese citizens and foreign nationals from Yemen during the civil war there in 2015. And Detective Chinatown 2, the Chinese version of Sherlock Holmes, combines comedy with mystery elements.
"I watched the movie Detective Chinatown 2 three times, as I am really into the plot device of using fengshui (also known as geomancy) as clues. Also, it was shot largely in New York City, including many landmark locations like Times Square, Fifth Avenue and the Brooklyn Bridge, making it attractive and intriguing to domestic and international audiences alike," said Zhang Xiaobin, a college student at Beijing Normal University.
The number of cinema screens in China reached more than 53,000 by the end of 2017, with more theaters to be built this year, according to a report by People's Daily.
As a result, watching first-run movies is no longer an exclusive privilege for people living in first- and second-tier cities. Young residents in mid-population and smaller cities can also enjoy top-quality entertainment.
According to Maoyan, theaters in third and-fourth-tier cities drew the most crowds during Spring Festival.
The mega-hit documentary feature Amazing China also earned more than 400 million yuan ($63.9 million) across the nation.
According to mtime.com, among all viewers, those aged from 20 to 29 account for 55.5 percent, proof the Chinese film industry boom has a great deal to do with the younger generation.