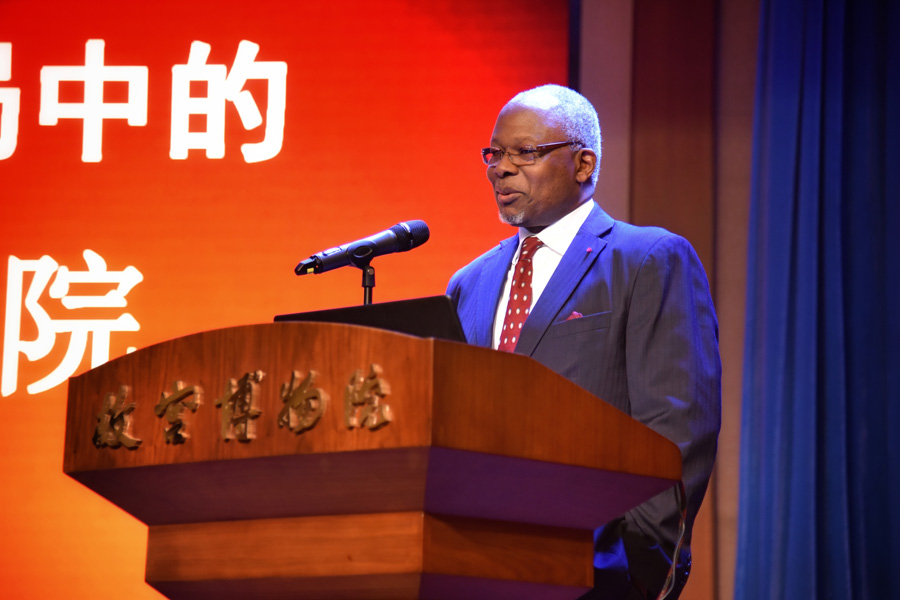 Martin Mpana delivers the speech in Beijing on April 16. [Photo by Zhang Xingjian/chinadaily.com.cn]
"It is really a golden opportunity for foreign friends to visit and get a deeper understanding of the renowned Imperial Palace. The speech has shown us a brand-new Palace Museum and provided a better understanding of Chinese culture."
Under the guidance of Shan, foreign diplomats have toured several classic scenic spots including Jianfu Palace, Xiehe Gate, Taihe Gate, Zhonghe Gate, Baohe Gate, Cining Palace and Shoukkang Palace.
They have also visited shops that sell cultural and creative products. Currently, Palace Museum has developed over 9,100 cultural products, with an annual sales volume exceeding one billion yuan ($158.4 million).
"I really like those products, as they are symbols of ancient Chinese culture. I can buy lots of gifts here for my friends in my home country as the prices are not that high," said Irena Skardziuviene, Minister Counselor of the Embassy of the Republic of Lithuania.