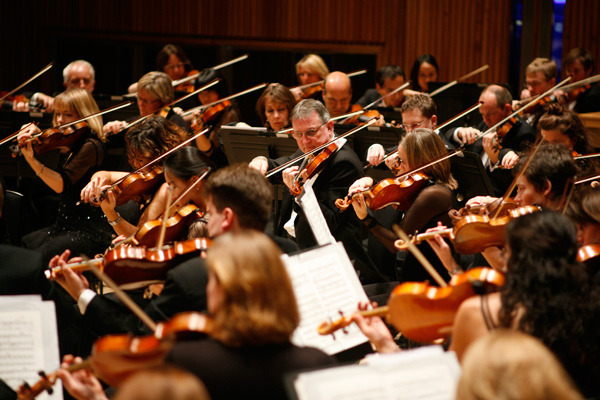 The London Philharmonic Orchestra tours regularly in the United Kingdom and internationally, with up to 50 concerts abroad each season. [Photo provided to China Daily]
At the time he was the music director of the Royal Opera House so the London Philharmonic Orchestra began as an orchestra that also played opera. And it continues the tradition as it has been the resident orchestra at the Glyndebourne Festival Opera, an annual opera festival held in Glyndebourne in East Sussex, an hour from London, since 1964.
Now, the orchestra tours regularly both in the United Kingdom and internationally with up to 50 concerts abroad each season.
In 1973, the London Philharmonic Orchestra made its first visit to China-making it one of the first Western symphony orchestras to perform in China after 1949, the year the People's Republic of China was founded. Back then, the orchestra did a total of five concerts in Beijing, Shanghai and Guangzhou.
According to Winfried Roch, the managing director of CCM Classic Concerts Management, the Munich-based company that's running the London Philharmonic Orchestra's current tour in China, the concerts at the NCPA by the orchestra also marked the start of the company's activities in China. The company has also taken major Chinese artists, such as Lang Lang and Chen Sa, to Europe.
Commenting on the response to the company's activities in China, Roch says: "We are overwhelmed by the positive and warm reaction of the audience, and the fact that so many young people come to the concerts and show their interest in Western classical music."
Roch also says that when Belgian conductor Philippe Herreweghe led Orchestre des Champs-Elysees to perform in China recently, there was a child sitting in the first row applauding enthusiastically.
Herreweghe was so touched by the kid's reaction that he handed his flowers over to the child.
Looking to the future, Roch says: "China is producing high quality musicians who stimulate the international music scene and boost cultural exchanges between China and Europe. This connects people and makes our world hopefully more peaceful."
If you go
7:30 pm, Jan 5 and 6. NCPA, 2 West Chang'an Avenue, Xicheng district, Beijing. 010-6655-0000.