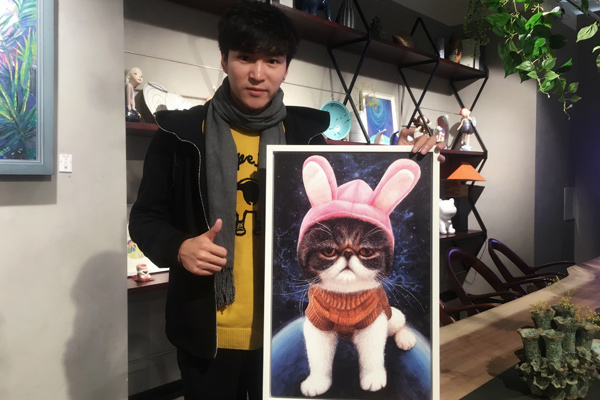 Ouyang Pengjie and his piece, Mrs Meow, at the charity exhibition on Dec 16 in Beijing. [Photo by Li Yingxue/China Daily]
He says sand bottle art brings him inner peace and helps him overcome anxiety.
Sand bottle artists have to be cautious and focused-as one minor error means they have to start over again, says Li.
Li created five pieces especially for this exhibition, with one of them based on his cat Pidan.
Li likes to observe his cat eating and walking. "It's the beauty of nature," says Li.
Artist Zhang He has two sculptures inspired by his cats, at the show. One is called Xiaopeng, based on a cat he adopted 11 years ago.
"He was skinny and always had some leaves on his tail. But now he is a big cat, weighing around 10 kilograms," says Zhang.
Zhang's other work is called We Only Have Each Other, which features two cats cuddling in a box.
The exhibition is hosted by Together for Animals in China, an animal protection charity.
The seven paintings created at the opening ceremony have been auctioned off for charity. Some of the exhibited works will also be auctioned at a later date, and the money from the ticket sales of the exhibition will also go to the charity.
The charity has been hosting the Bringing Alley Cats' New Year Dinner event for five years, but this year is the first time it has raised money through an art show.
Liu Xiaoli, the founder of Together for Animals in China, says the charity uses the money to buy cat food and deliver it to volunteers who look after homeless cats-those "who can hardly survive, especially in winter time".
Wang Zhibin, the owner of Liahona Art Space, is also a volunteer for Together for Animals in China.
"We want to help the cats in artistic ways, and also bring art into life," says Wang.
If you go
10:30 am-7:30 pm, until Jan 16. Liahona Art Space, 2nd floor of No 6 shopping mall at Sanlitun Soho, 8 Gongti Beilu, Chaoyang district, Beijing. 010-6581-0571.