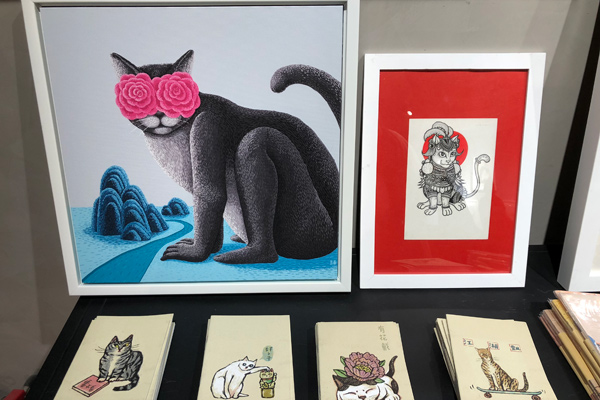 A selection of the artworks on display at the exhibition. [Photo by Li Yingxue/China Daily]
Seven artists are sitting in a row drawing cats, and each of them has only 30 minutes to complete their paintings.
With 10 minutes left, Ouyang Pengjie signs his name on his completed painting. He has drawn a cat walking on grass.
Once the time is up, seven different cats appear on sheets of paper.
The session is a demonstration of art at the opening ceremony of a charity exhibition about cats at the Liahona Art Space in Beijing on Dec 16.
At the show, more than 20 artists who are also cat lovers showcase more than 300 works, including paintings, sand bottle artworks and sculptures.
Ouyang, a 27-year-old painter, brings a painting called Mrs Meow to the show.
He used to be addicted to computer games before he fell in love with drawing 10 years ago.
He now has his own art studio and is one of the most popular livestreaming hosts in China.
Unlike most hosts who talk or sing live, he just places a camera in front of him when he is drawing.
Mrs Meow is one of the works he completed when he was livestreaming.
Ouyang has a cat named Xiaogongju, which was a gift from a fan a year ago.
"I loved cats before I got Xiaogongju, and now I love them even more," says Ouyang.
"Cats give me inspiration. Drawing can be a lonely path, so I really enjoy the company of my cat. He likes to lie on my desk when I am drawing. If I feel tired, I just play with him for a while."
Another painter Li Baogen displays his sand bottle artworks at the show.
Based in Shijiazhuang, Hebei province, Li also runs a startup company besides doing sand bottle art. He learned this art form two years ago when he was looking for a handmade gift for his cousin's birthday.