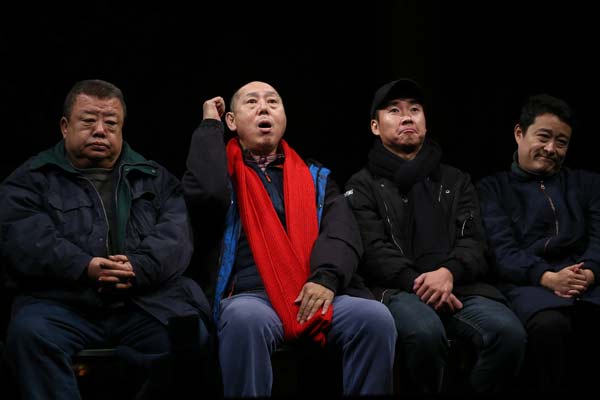 The theater plays Five Acts of Life is adapted from five short stories by Chinese author Lao She, including Assuming Office and Death Dealing Spear. [Photo by Zou Hong/China Daily]
"The play was performed by two actors and one actress. We met director Brook after the performance and Lin talked with him for a long time," says Wang. "Looking back, it seems it (the performance and the conversation that followed) was an inspiration for Five Acts of Life."
The other stories in the play are Menage a Trois, which is about two war buddies sharing one wife; Liu's Compound, which follows an ill-fated woman's road to suicide under the constant bullying of her husband and in-laws; and The Death Dealing Spear, which tells of the dwindling fortunes of an armed escort after the introduction of firearms.
Chinese director and actor Fang Xu plays three roles in the play-a fortuneteller, a kung fu master and a Peking Opera actor. "What makes Lao She's works timeless is his insights into human nature and his wit," says the 51-year-old.
Fang graduated from the directing department of the Central Academy of Drama and spent his youth in a courtyard of a populated hutong area. He says he feels connected to Lao She's stories.
"The characters in his works remind me of my neighbors in the hutong when I was a child. They are so ordinary, vivid and real, which is fascinating to me," Fang says.
Fang started to work on his own adaptation of Lao She's works in 2012.
His first attempt, a one-man show based on a story called This Life of Mine, tells the story of a low-ranking policeman in Beijing in the early 20th century. It was a big success when it premiered at the Central Academy of Drama.
Fang also adapted Lao She's novels-Divorce, Cat Country and Mr Ma and Son-into plays.
He will premiere his new play, in which he adapts six of Lao She's short stories for the stage, in May.
Contact the writer at chennan@chinadaily.com.cn
If you go
7:30 pm, Jan 2. Great Hall of the People, west of Tian'anmen Square, Xicheng district, Beijing. 400-610-3721.