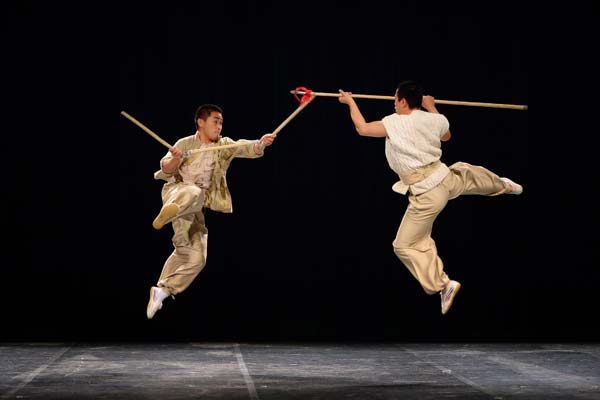 The theater plays Five Acts of Life is adapted from five short stories by Chinese author Lao She, including Assuming Office and Death Dealing Spear. [Photo by Zou Hong/China Daily]
A play comprising five short stories by Lao She returns to Beijing after its recent two-month nationwide tour. Chen Nan reports. Chen Nan
Theater director Lin Zhaohua met Shu Yi, the son of novelist and playwright Lao She (1899-1966), after Lin premiered his play Hamlet, adapted from William Shakespeare's work, in October 2008.
While congratulating Lin on his take on the classic, Shu talked about commemorating his father's 110th birth anniversary.
Every year, commemorative programs, like staging plays written by Lao She-which include Teahouse, Rickshaw Boy, Four Generations under One Roof and The Peking Man-are held to pay tribute to Lao She, whose original name was Shu Qingchun.
Regarded as one of the literary giants of the country, Lao She is noted for his works with a strong Beijing flavor and a vivid depiction of human nature.
However, both Lin and Shu Yi wanted to do something different.
So, they decided to produce Five Acts of Life, a play comprising five short stories by Lao She, which offers a vivid view of Chinese society from 1898, the end of the Qing Dynasty (1644-1911), to 1948.
Before that, Lao She's short stories had never been adapted for theater.
The play, directed by Lin, premiered to great success at the Hong Kong Arts Festival, with four sold-out shows, in March 2010. And it has toured the country every year since then with hundreds of performances.
Five Acts of Life will return to Beijing on Jan 2, after a two-month nationwide tour.
During a recent rehearsal at Beijing's 300-year-old Zhengyici Theater, veteran actor Li Chengru, along with six actors, were preparing for Assuming Office, or Shang Ren, which takes a bold look at the tensions and blurred boundaries between criminals and the authorities.
"Though these five short stories were written decades ago, they are still relevant today," says Li.
The 63-year-old Beijing native has performed different roles in the five parts of the play since 2012.
In Assuming Office, he plays the role of a head of a police department, who used to be a criminal like all the other members of the office. He tries to be a good man but has to make compromises.
Speaking about his performance, Li says: "It is exhausting and challenging to switch between different roles. But a major motivation for me is the Beijing flavor and the way people lived and spoke, which Lao She portrayed."
Li also says he took up the project as he wants that the audience, especially the younger generation, to experience Beijing culture, which is in danger of dying out.
Wang Xiang, who adapted the five short stories into the play, says: "The city's unique personality is vanishing due to fast urbanization. Beijing has become an international city, but it has lost its original character, such as the Beijing dialect."
Wang says that he accompanied Lin to the Edinburgh International Festival in the United Kingdom in August 2008, two months before they decided to turn the five pieces into a play. During their trip, they went to London and watched English theater and film director Peter Brook's play Fragments. Brook brought together five short stories by Irish novelist and playwright Samuel Beckett.