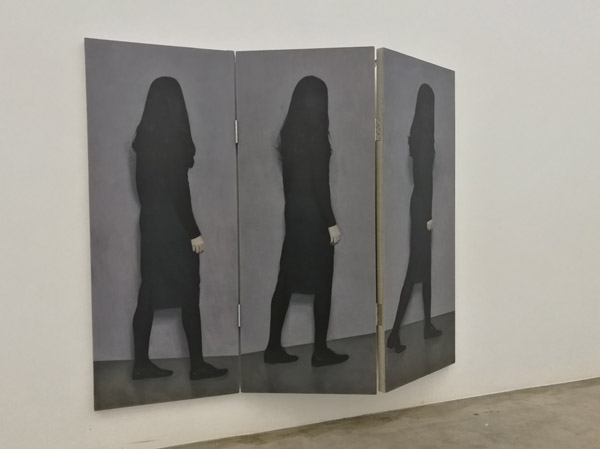 Artist Xue Ruozhe explores people's inner worlds without depicting their facial expressions. [PHOTO PROVIDED TO China Daily]
This exhibition is about space and perspective, and the relationship between the paintings and the physical space they occupy, according to Xue.
In another painting titled Screening, Xue sets up a clever pun.
The painting is made up of three panels hinged together, like a bi-fold door. Each panel of the triptych bears the image of a woman dressed in black walking away from the viewer, with each step captured like the frame of a film - a nod to the painting's title.
However, the dislocation in perspective is the real trick behind the work.
The bottom edge of the first panel sits parallel with the floor of the gallery. The bottom edge of the wall painted in the second panel also lies parallel to the floor, while the bottom edge of the wall painted in the third panel lies parallel to the bottom of the panel.
Viewed as a whole, it seems that the woman, who has her head slightly lowered, is walking along a path with no hint of where it might lead her.
At the same time, the position and viewing angles of the paintings also have something to say.
In a narrow corridor, the positioning of the two paintings on the wall strengthens the foreshortening effect, to give the illusion that the distant one appears smaller.
The end of the corridor opens out into a broader area with an angled wall, where a painting of two women with their backs turned is displayed.
The dusty blue background and the absence of human shadows create a void in the story behind, forcing the audience to observe the nuances of the subjects' hair, hands and even clothes.
Seen from a distance, the figures of the women in the painting appear to be standing side by side. Moving closer, they remain in tandem, but it's not easy to tell exactly who is ahead and who is behind.
"Disquiet in peace" is a common impression of Xue's paintings. Replication, juxtaposition and detailed differentiation of the characters help to convey a sense of alienation in the modern world.
As Zhang points out, "Xue's works create a parallel world that is both absurd and irrational. Without any narrative context, the works bring infinite possibilities."
"Xue is experimenting with his own painting language," says Su Wei, an art critic and curator of the Inside-out Art Museum in Beijing. "He paints with restraint, and is neither nervous nor exaggerated."
If you go
12:00-6:00 pm, Tuesday to Sunday, through March 9. Beijing Art Now Gallery, Building E, Red Yard No 1 Caochangdi, Cuigezhuang, Chaoyang district, Beijing. 5127-3292.