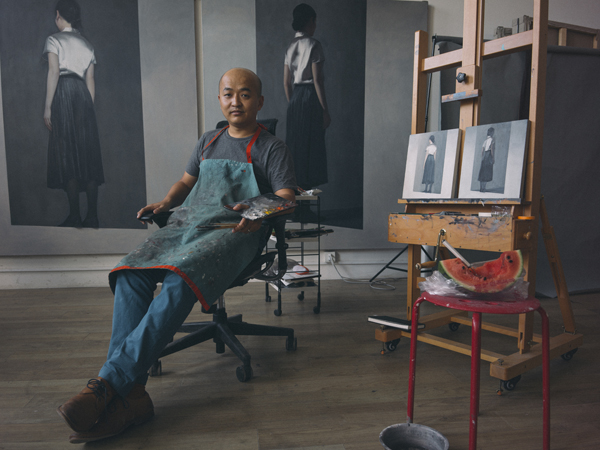 Artist Xue Ruozhe. [PHOTO PROVIDED TO China Daily]
In his recent paintings, Xue Ruozhe has been observing people's inner worlds without depicting their facial expressions, the strongest reflection of human emotions.
The Metaphor for Existence, his new exhibition has created a "more spiritually abstract" world, according to curator Zhang Zhiwei.
The first glimpse of what his new exhibition holds is the image of a woman's palm. Her delicate white blouse is creased and her lips are only faintly visible.
Yet, with most of her face not visible, it's difficult to tell if she is saying "hello", "no" or "goodbye".
And by setting aside the need for written descriptions to interpret his paintings, the ambiguity is intensified, part of Xue's intention to "eliminate the guidance of words and purify the viewing experience".
After graduating from the Central Academy of Fine Arts in Beijing with a major in oil painting in 2012, Xue studied at London's Royal College of Art, where he began to learn about the differences between Chinese and British styles of talking.
"So, Xue began trying to integrate these differences into his paintings," Zhang says.
"His paintings are more subtle and euphemistic, just like the way we talk."